Konditor delivers handmade brownies, biscuits and personalized cakes to your door
Konditor has been baking handmade vegan and allergen free cakes, brownies, and biscuits for 25 years. And now they deliver their baked goodies to homes all across the UK.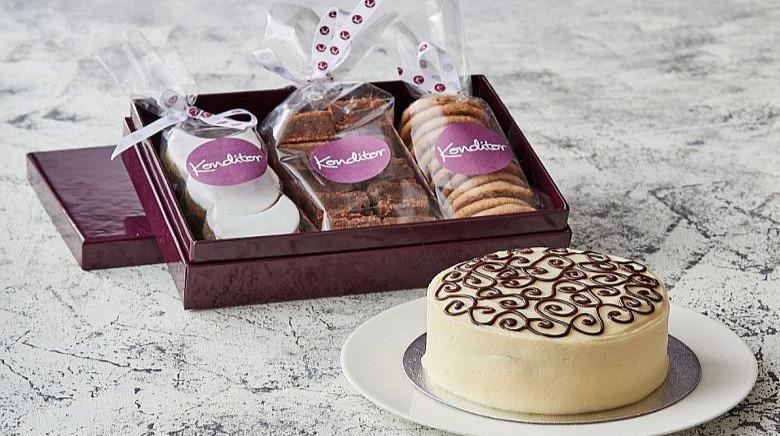 After 25 years as London's favourite cake shop, Konditor & Cook is saying goodbye to its infamous sausage rolls to focus on its baking heritage and specialties. Much loved Konditor & Cook is now referred to simply Konditor, and sporting an authentic new logo created by founder Gerhard's fair hand.
Vegan and allergen free cakes from Konditor
Take the time to indulge and savour the range of allergen free and vegan cakes and brownies handmade by Konditor. Choose their celebratory Rainbow Vegan Happy Birthday brownie slab with a super sticky recipe or the Vegan Chocolate Raspberry Velvet Cake with a layer upon layer of velvet chocolate, together with a smooth truffle ganache and sharp raspberry compot that will leave your taste buds tingling. The golden syrup, lemon, and raspberry jam are just a few of the ingredients that give this cake a touch of Zing! Using organic free-range eggs and natural butter in all their recipes shows that Konditor takes pride in offering only the finest ingredients for their baking.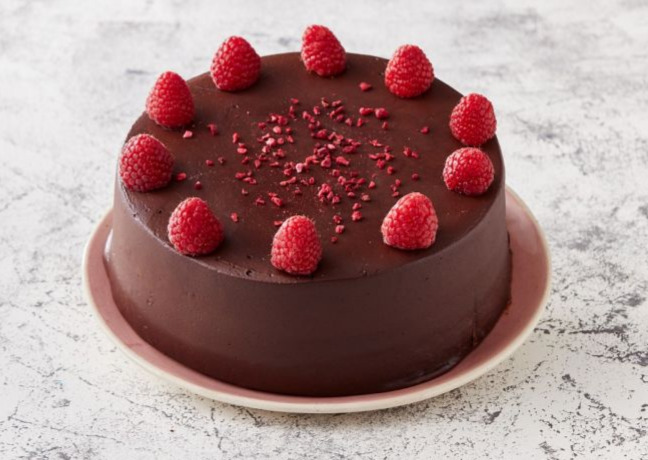 Enjoy your two favourite cakes in one with the Konditor Half & Half Cake
With Konditor offering so many scrumptious cakes, it's difficult to choose just one flavour, so Konditor offers the Half & Half Cake, where you can pick two of your favourite delights in one cake. Ordering is simple and easy, you choose the flavours, and Konditor does the rest. Available in many different recipes, from curly whirly and red velvet to chocolate noisette and passionfizz, Konditor ensures you don't miss out.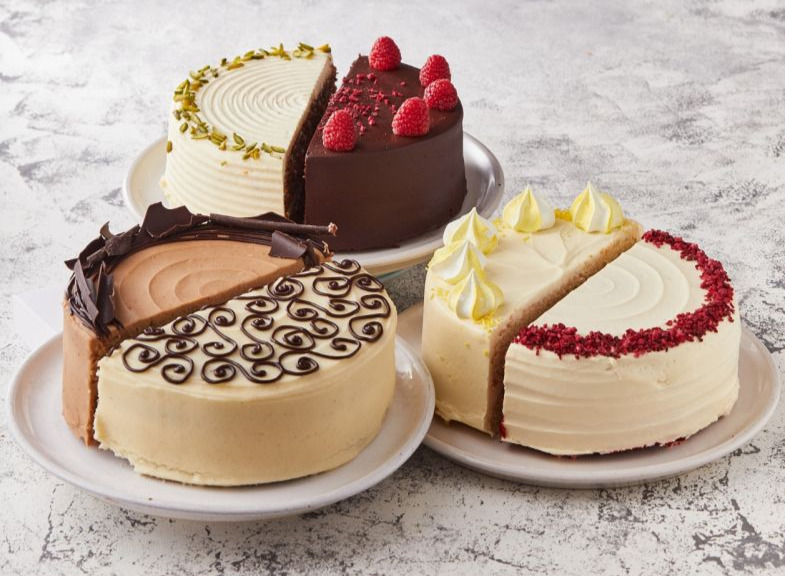 Care to share the Konditor Brownie Sharing Platter of 12?
They say caring is sharing and what better way to spread sweetness between your friends and family than with the Konditor Brownie Sharing Platter of 12. With a selection of 12 brownies cut into 24 fingers ranging from salted caramel, Boston cranberry, chocolate chip, and curly whirly, made with delicious ingredients such as chocolate, cream cheese, Cranberries, and vanilla pods, sharing has never tasted so good.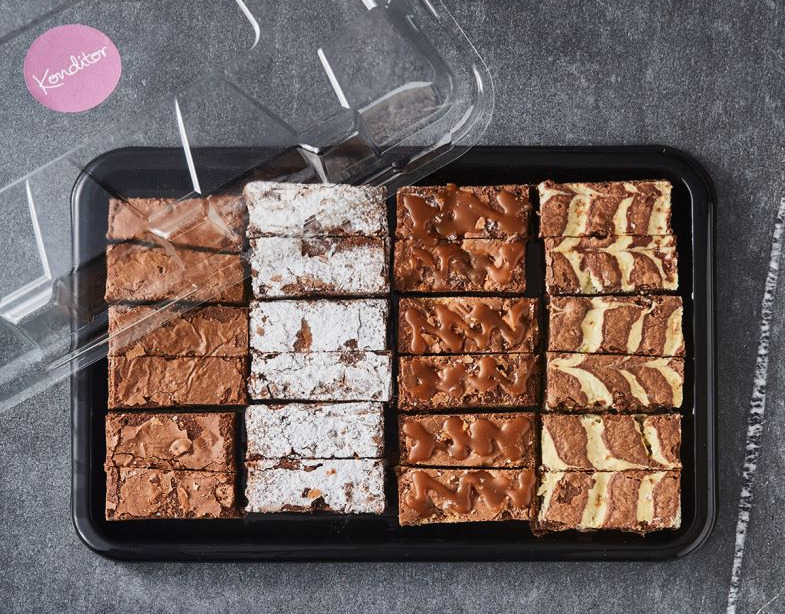 For tasty brownies, biscuits and cakes, choose Konditor
Brownies, biscuits, or cake? Not sure which to choose? Then take a peek at Konditor's gifts and biscuit section, where you can have your cake and eat it! With so many options to choose from, such as the Mini Numbered Brownie Slab & Cake or the Lemon Moon Biscuits. Be sure to take a look at the Top of the Bakes by Konditor, where you can choose a 4" cake with the recipe of your choice, together with a box of treats containing 4 brownies, including curly whirly, chocolate chip, Boston cranberry, and salted caramel.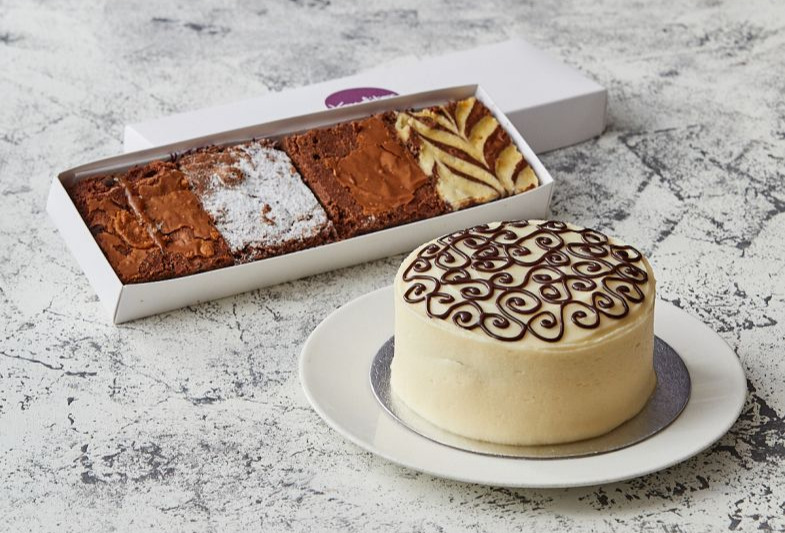 Shop all Konditor Gifts & Biscuits
Compliment your cakes with the finest cake accessories by Konditor
Celebrate your special events in style by adding a touch of fun with Konditor cake accessories. Whether it is a happy birthday with the Rainbow Happy Birthday Bunting Balloons, a golden affair with decorative Gold Numbered Candles, or adding a bit of sparkle to the occasion with white glitter candles. Dress up your favourite cake with Konditor's colourful Happy Birthday Candles and get your party moving in the right direction.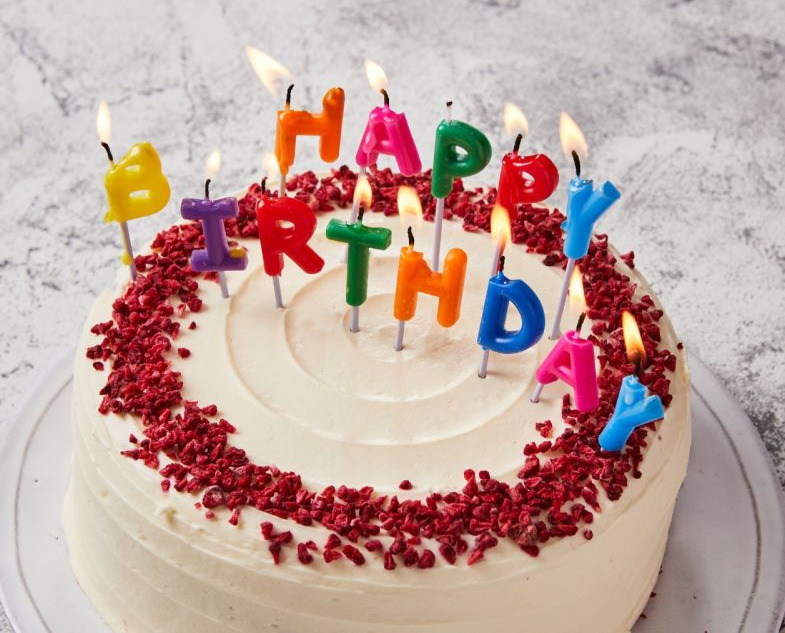 Shop Konditor Cake Accessories
Bake a cake or a tasty tart with Konditor recipes
Want to bake that perfect cake, bash out some brownies or reach for the cinnamon stars? Konditor shares some fantastic recipes with their customers, including their curly whirly cake recipe. Others include tasty prune & orange puff tart with orange liqueur glaze, Lavender shortbread, and dainty strawberry tarts. With easy-to-follow instructions, you can delight your whole family.
Meet the man who bakes for the Rolling Stones, Tina Turner, and who founded Konditor
After watching and sampling the delights of his mother's baking, German-born Konditor founder, Gerhard Jenne developed a taste for fine baking. He then trained as a pastry chef, or Konditor as it is known in Germany. Once qualified, Gerhard moved to London and quickly made a name for himself, working for the famous Justin de Blank. With his love of baking and flair for creating masterpieces in his cakes, he soon found himself baking for celebrities such as Tina Turner and the Rolling Stones, to name but a few. In 1993 Gerhard purchased a small bakery in Waterloo, London, and Konditor was born. Still thriving 25 years later, and with a string of other bakeries behind them, they have transitioned from a small retail outlet to offering deliveries nationwide. Konditor is famously known for their handmade, immaculately decorated cakes with the finest ingredients and meticulous attention to detail, making their cakes a celebration in themselves.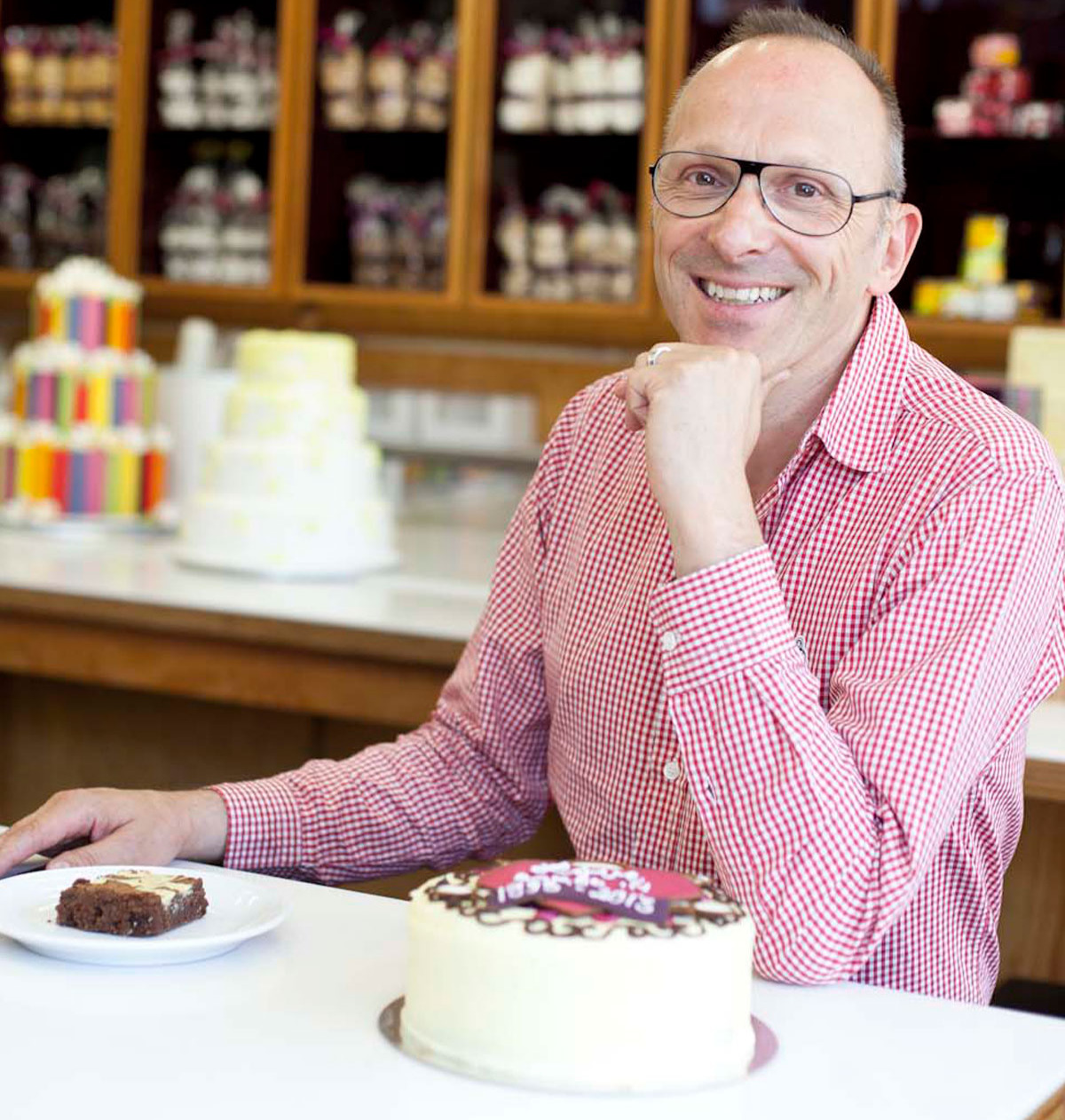 Shipping & Delivery
Konditor delivers to most London postcodes within the M25. To see which postcodes are covered, please click here. The minimum order is £10.00 excluding delivery charges, with free delivery on orders over £100.00. The courier service used is dependent on the delivery postcode. For same-day delivery, orders must be placed before 14.00 pm. Orders can be placed up to a month in advance. Konditor's entire product range is available for London delivery.
For nationwide delivery, please allow 3 working days. Konditor delivers to the entire UK mainland. Delivery to any highlands or islands is not currently available. Nationwide delivery is £4.95 Monday - Friday and £6.95 on Saturdays. The minimum order is £10.00 excluding delivery charges, with free delivery on orders over £100.00. For more information, please visit Konditor's SHIPPING page.