Joseph Joseph designs unique, innovative home, bath & kitchen utensils & products
Twin brothers, Antony and Richard Joseph offer unique, handy, stylish accessories for your bathroom, kitchen and laundry room - and all designed to make your life easier.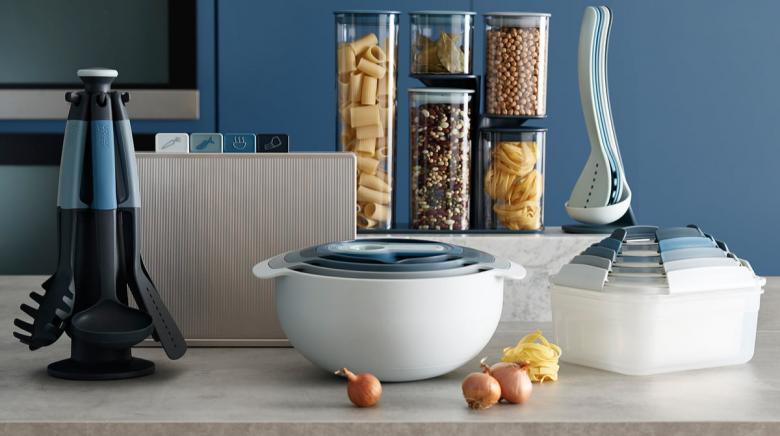 Since 2003 Joseph Joseph has been producing top quality household products for your bathroom, kitchen, utility and laundry room. From the world's first folding chopping board to food storage, worktop organisers, bathroom accessories and much more, Joseph Joseph, with their unique and innovative ideas, have thought of every design and colour that make their products stand out from the crowd. With their minimum two year guarantee across all orders, you know their quality is outstanding.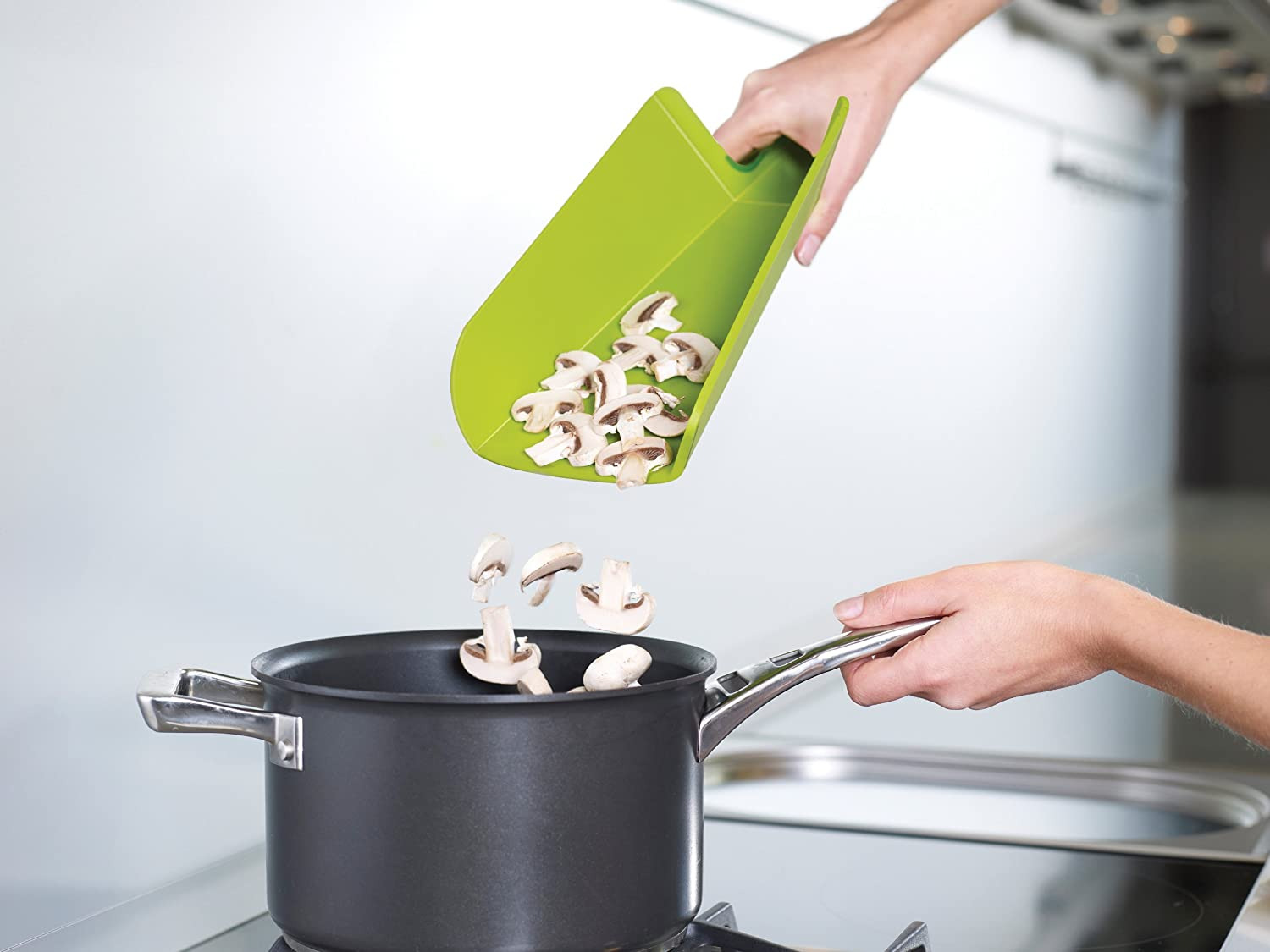 With over 1000 affordable products in over a hundred different countries, London based Joseph Joseph has gone from strength to strength. Joseph Joseph holds 14 prestigious Reddot Design Awards and two Queen's Awards for Enterprise presented to them by HRH The Princess Royal. This speaks for itself that with Joseph Joseph, you have quality every time.
Kitchenware storage and accessories
Joseph Joseph knows that the kitchen is one of the busiest rooms in your home, and for this reason, they have tried to create products that make your kitchen run smoothly. From cooking and food preparation to storage and worktop savers, at Joseph Joseph, you will find everything you need.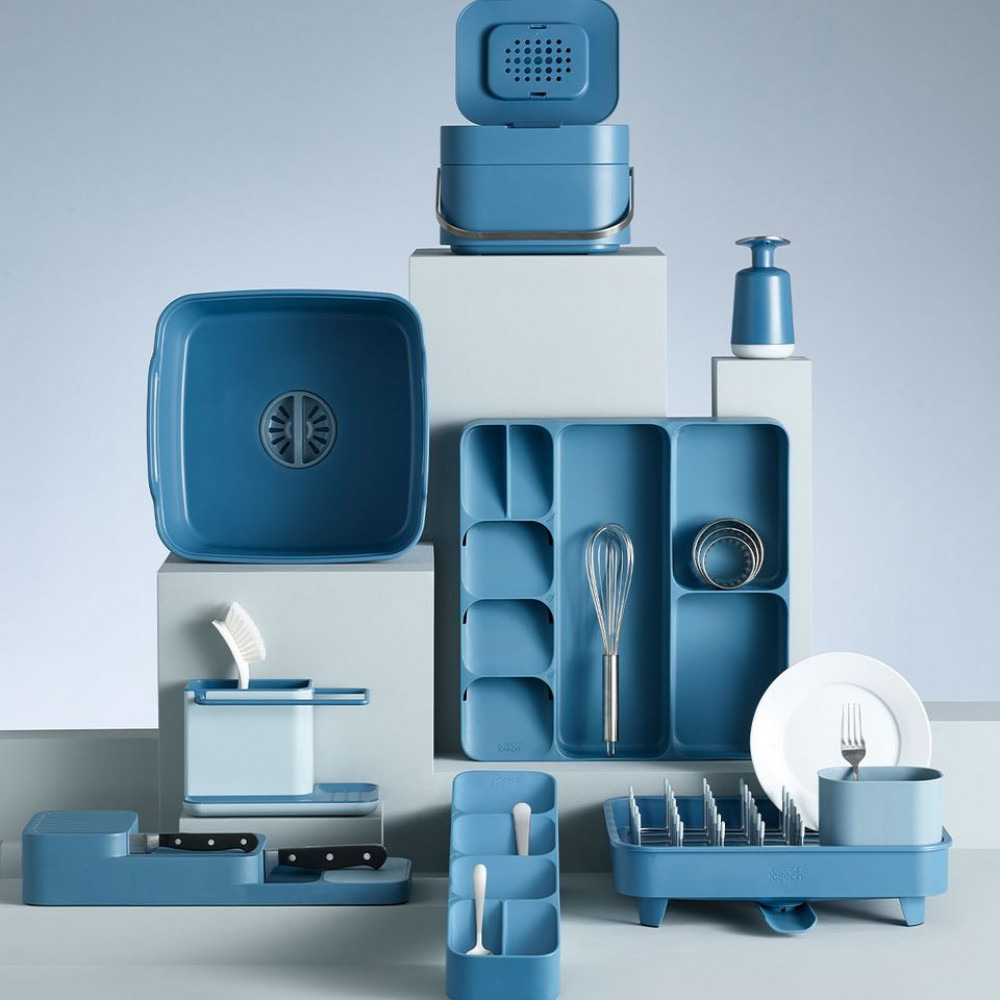 Bar & Serveware
Entertaining family and friends? No problem, at Joseph Joesph, you have a wide range of products to help you, from their Bar Wise Twist-lock  Wine Stoppers, Milltop Salt & Pepper Mills, to their Disc Easy-Clean Pizza Cutter; entertaining has never been so much fun.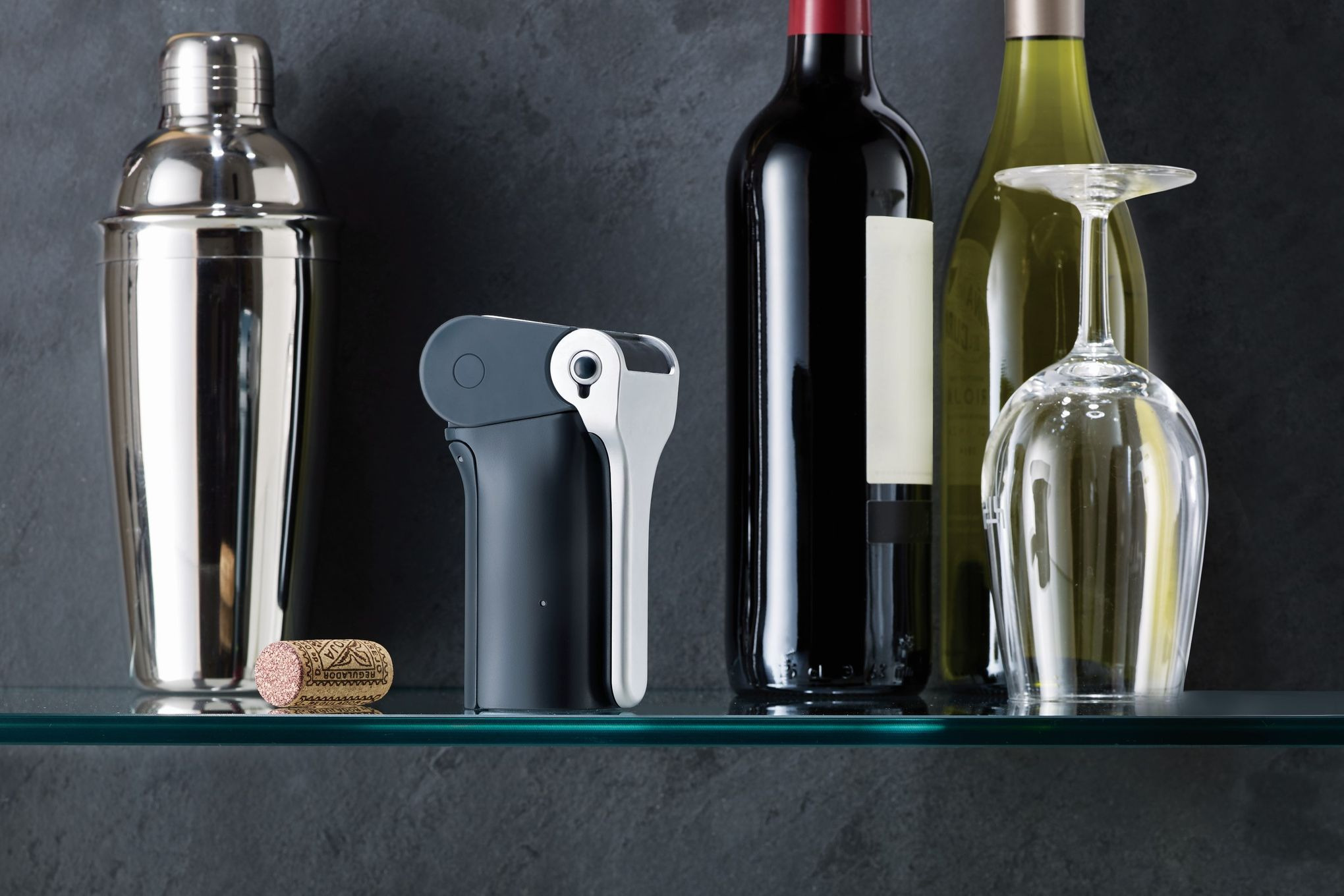 Food & Drinks On-the-go
Joseph Joseph recognises everyone has busy lives, which is why they have created their Food & Drink On-the-go products.  Whether it is their GoEat On-the-go Cutlery Set and GoEat Salad Box for that fun picnic in the park, the GoEat Lunchbox for your packed lunch for work or their Sipp Travel Mug with Hygenic Lid for when you are on your travels, Joseph Joseph have you fully covered.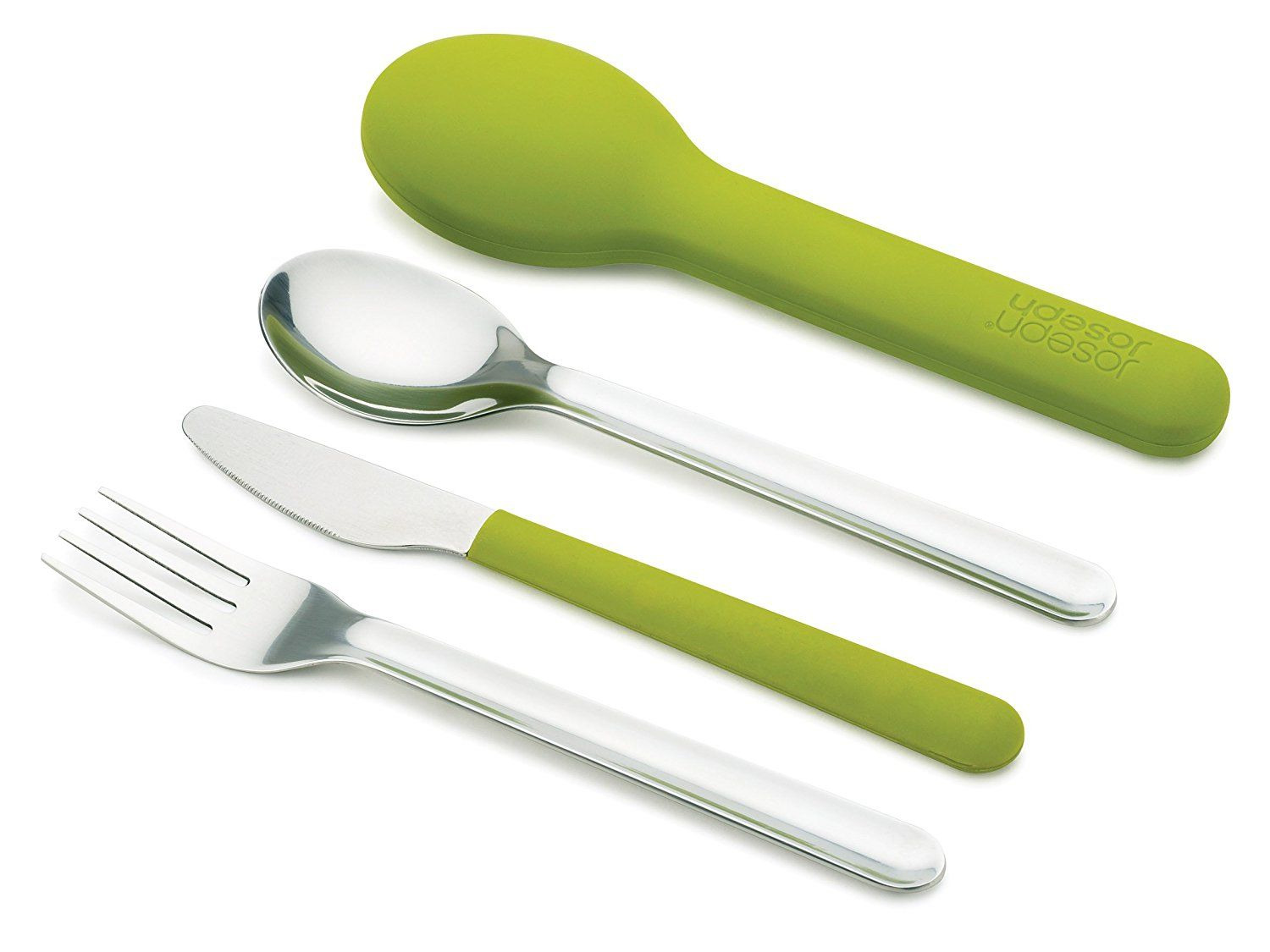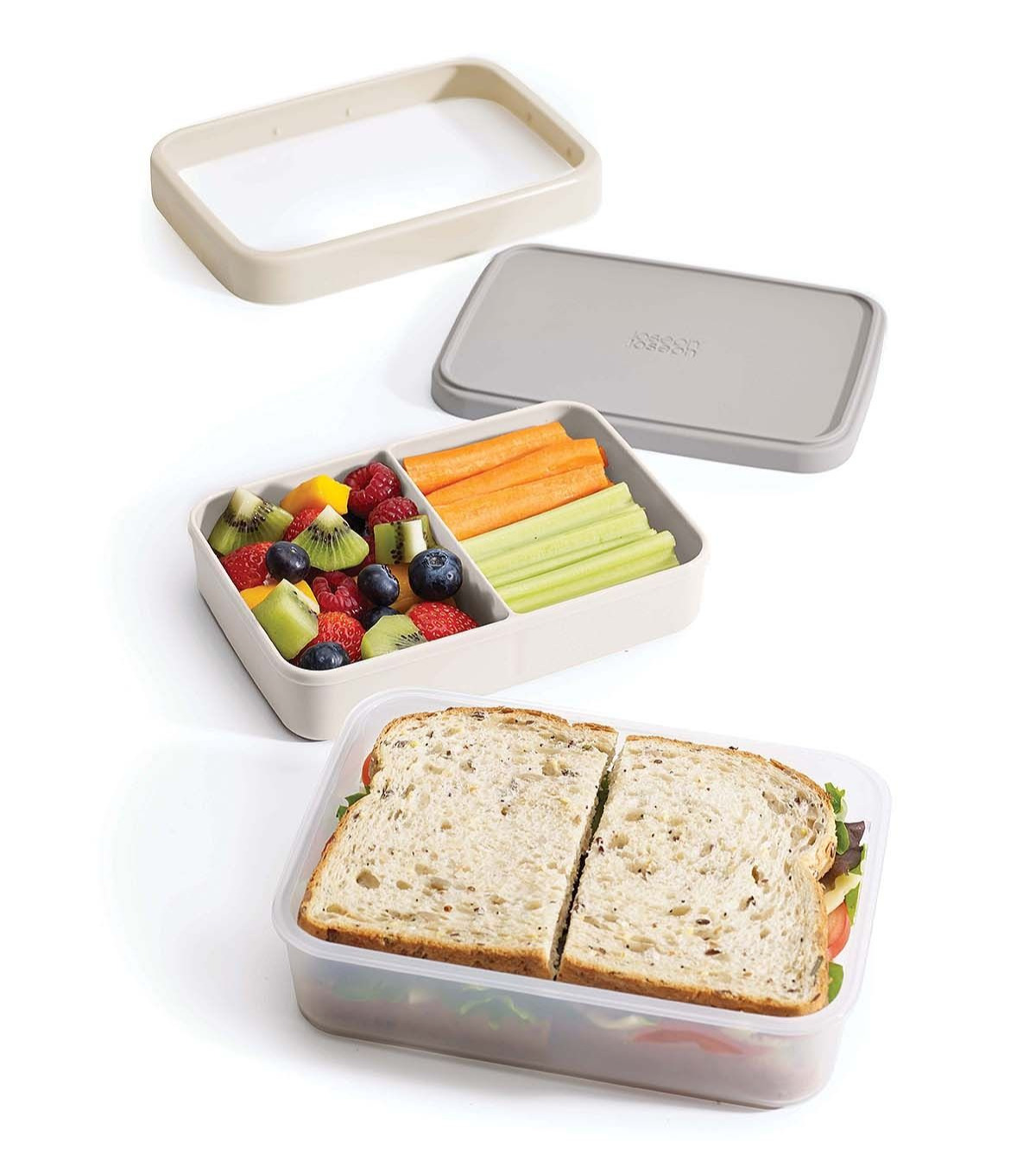 Kitchen Gadgets & Utensils
Everyone loves Gadgets! Designed to make our lives easier, Joseph Joseph has created a wide range of gadgets and utensils to do just that! Available in a range of exciting colours, the list is endless and, with so much to choose from, you will soon fill your basket. New products added to the range include the Bloom Folding Steamer Basket, a great product that boasts self-adjusting sides and heat-resistant silicone feet and side fins. You can use the Bloom Folding Steamer Basket on any pan, including non-stick (minimum 18cm ). It is dishwasher safe and folds away neatly when you have finished.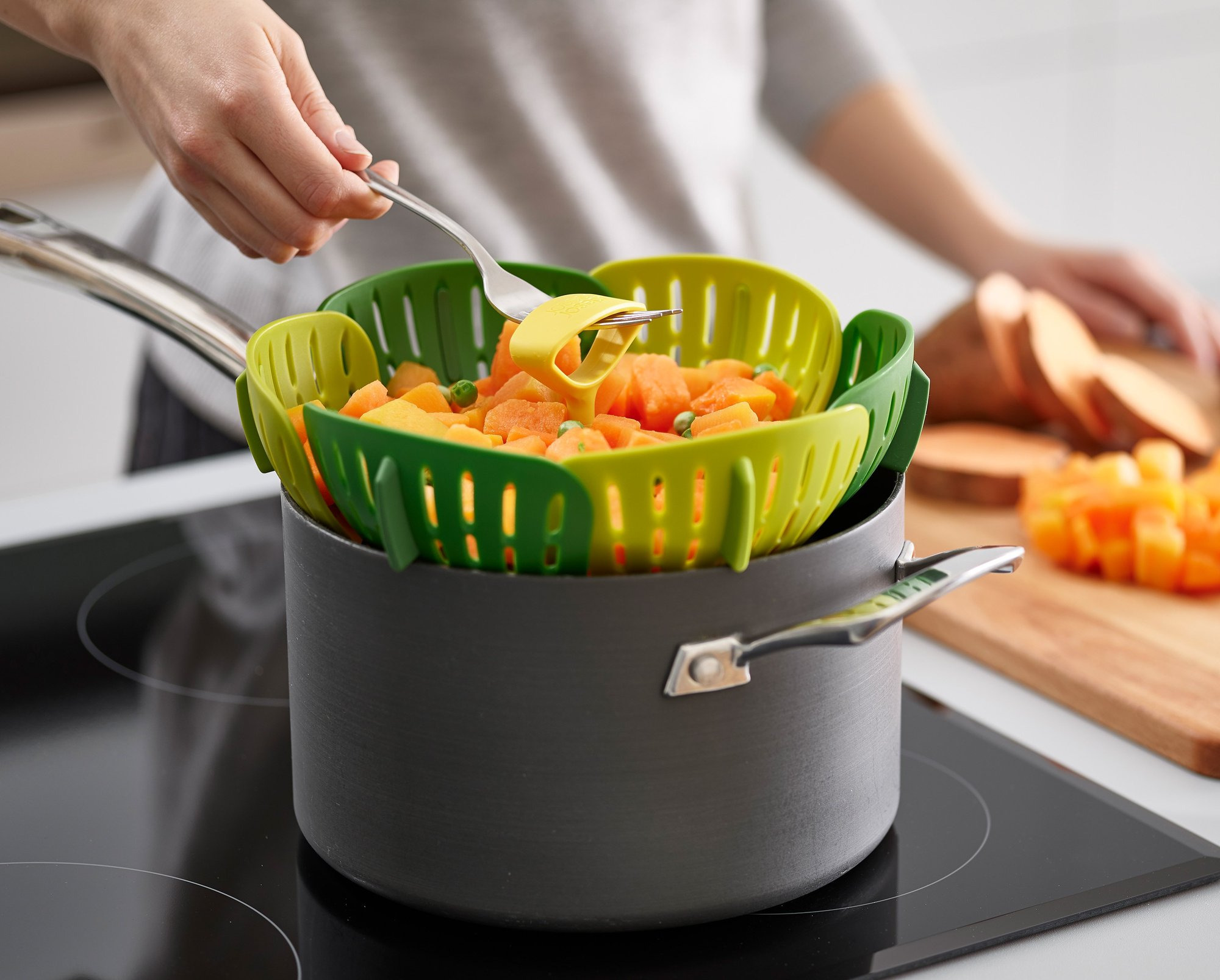 Shop Bloom Folding Steamer Basket
Also included in Joseph Joseph Gadgets & Utensils is the Uni-Tool 5 in 1 Utensil, a space-saving gadget because it has five different uses in one product. With the Uni-Tool 5 in 1 Utensil, you have a cutting tool, solid spoon, spatula, turner, and slotted spoon, saving space in your utensil drawer. The Uni-Tool 5 in 1 Utensil is also heat-resistant to 200°C (392°F)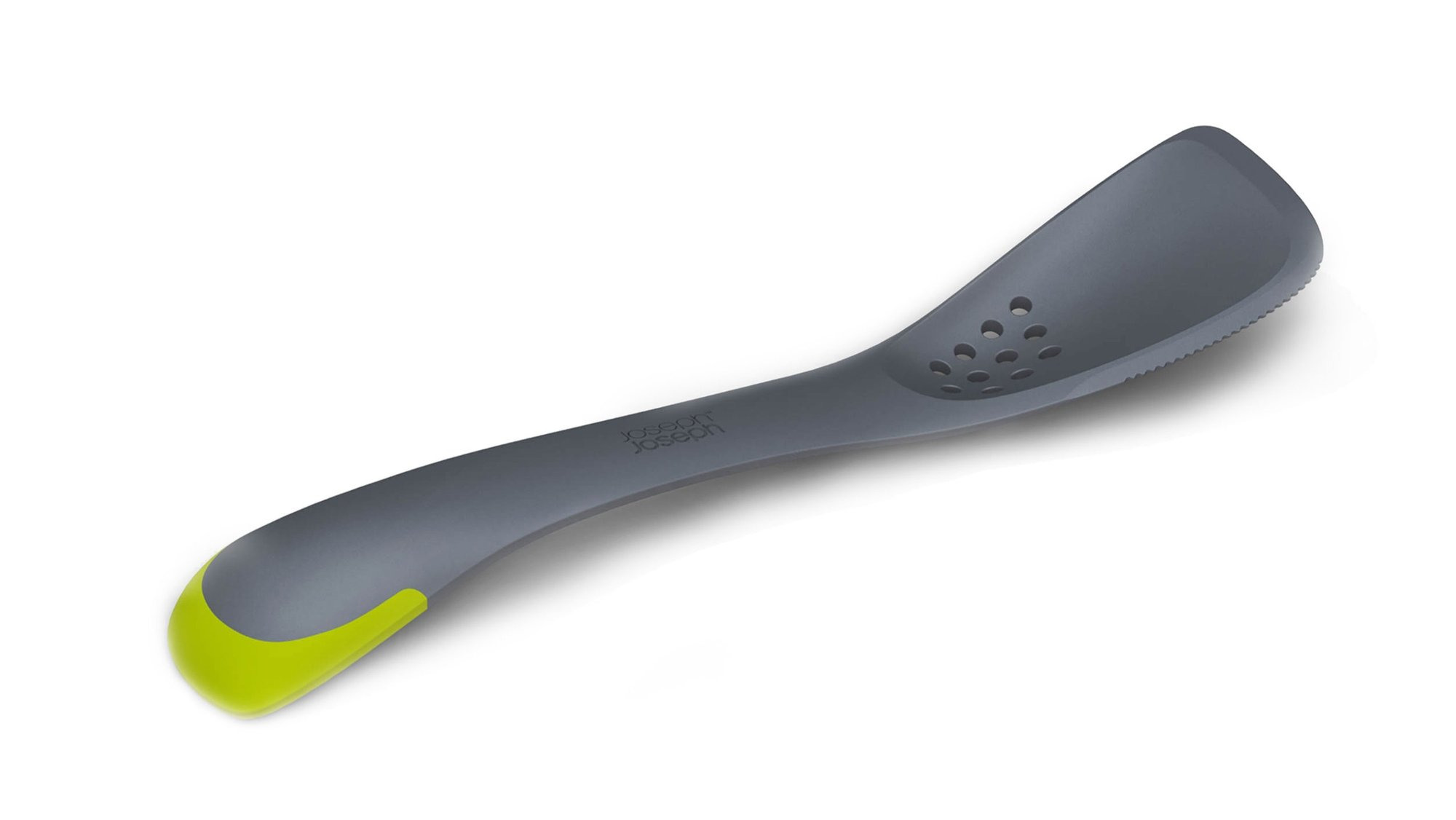 M-Cuisine Microwave Rice Cooker
If convenience is what you want, then the Joseph Joseph M-Cuisine Microwave Rice Cooker is the perfect way for you to cook your rice.  This unique product allows you to measure, wash, cook and serve the ideal fluffy rice in minutes! No more boiling for 20 minutes in a pan!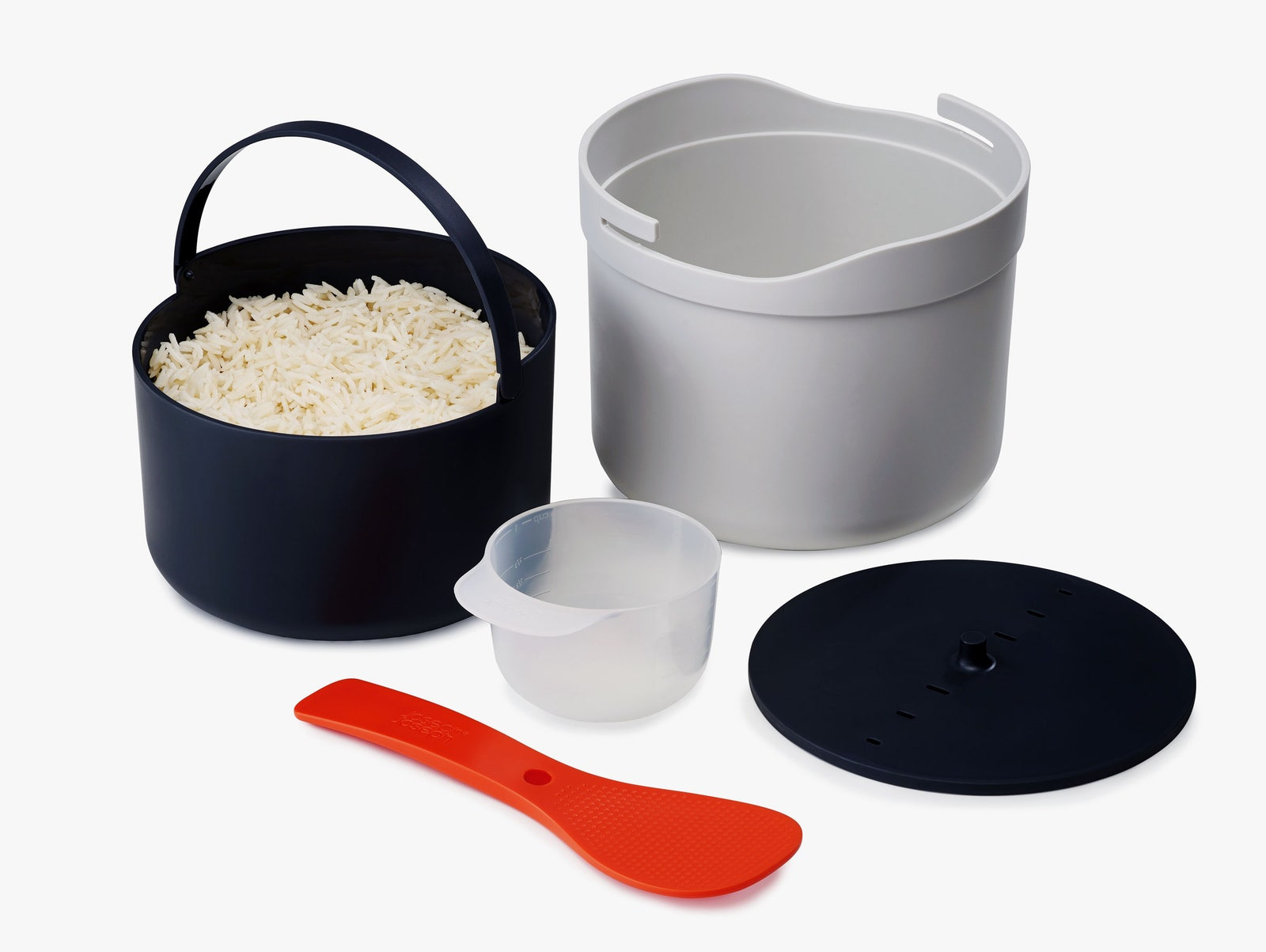 The list of products for Joseph Joseph Kitchenware is endless; click on the button below to see the full range and start making your life in the kitchen easier.
Shop Kitchen Storage, Accessories & Utensils
Bathroom Accessories
No matter what size your bathroom is, Joseph Joseph has made sure that their products save you space and still make your bathroom look stylish.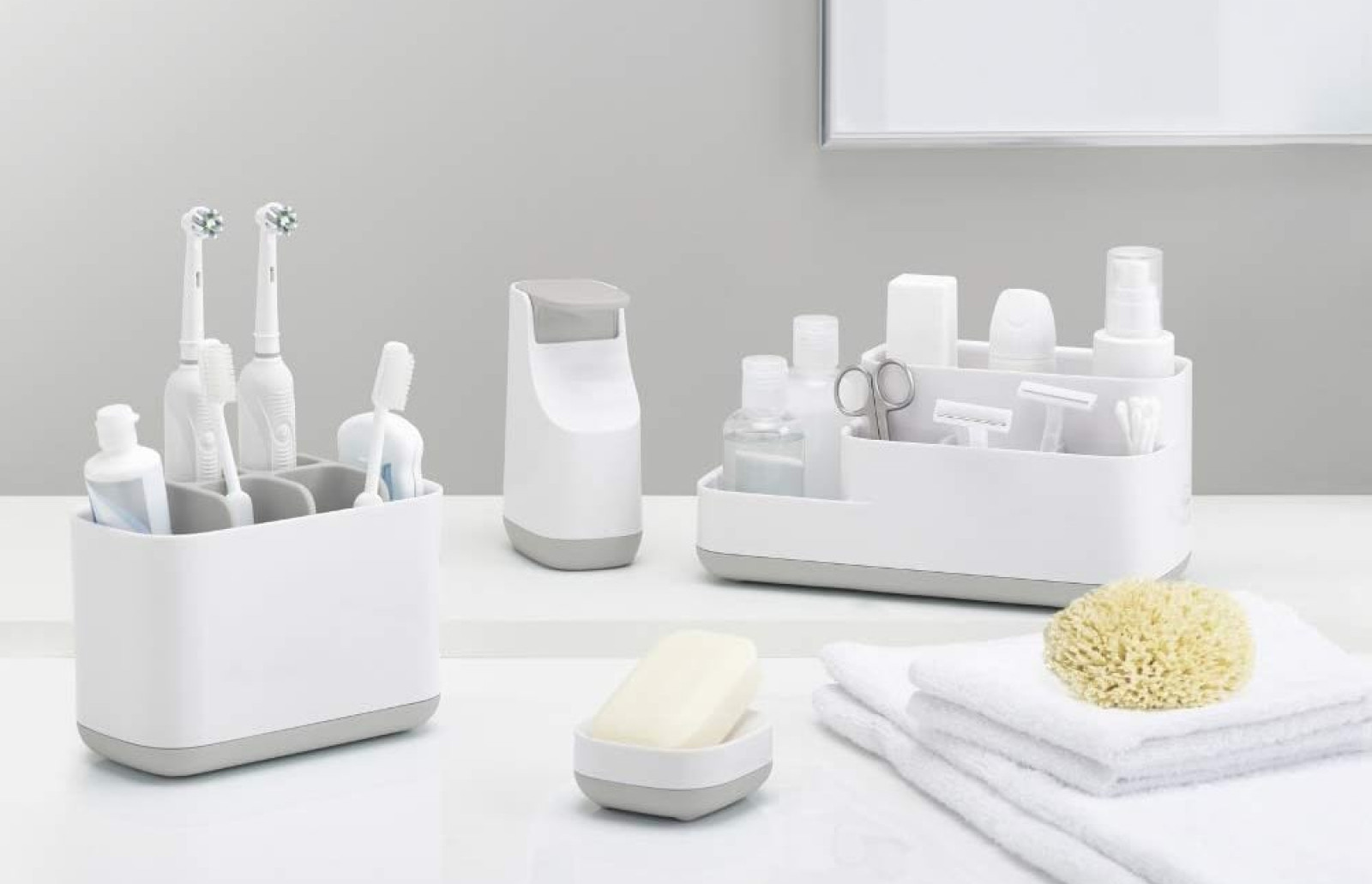 Shower Caddies & Squeegees
Take a look at their EasyStore Corner Shower Shelf with Removable Mirror. You can fit in your shower gels and shampoo bottles. Joseph Joseph has also added hooks for your razors, sponges, and flannels and the acrylic mirror is removable and shatter-resistant. The EasyStore Corner Shower Shelf with Removable Mirror is self-draining and lifts off for ease of cleaning.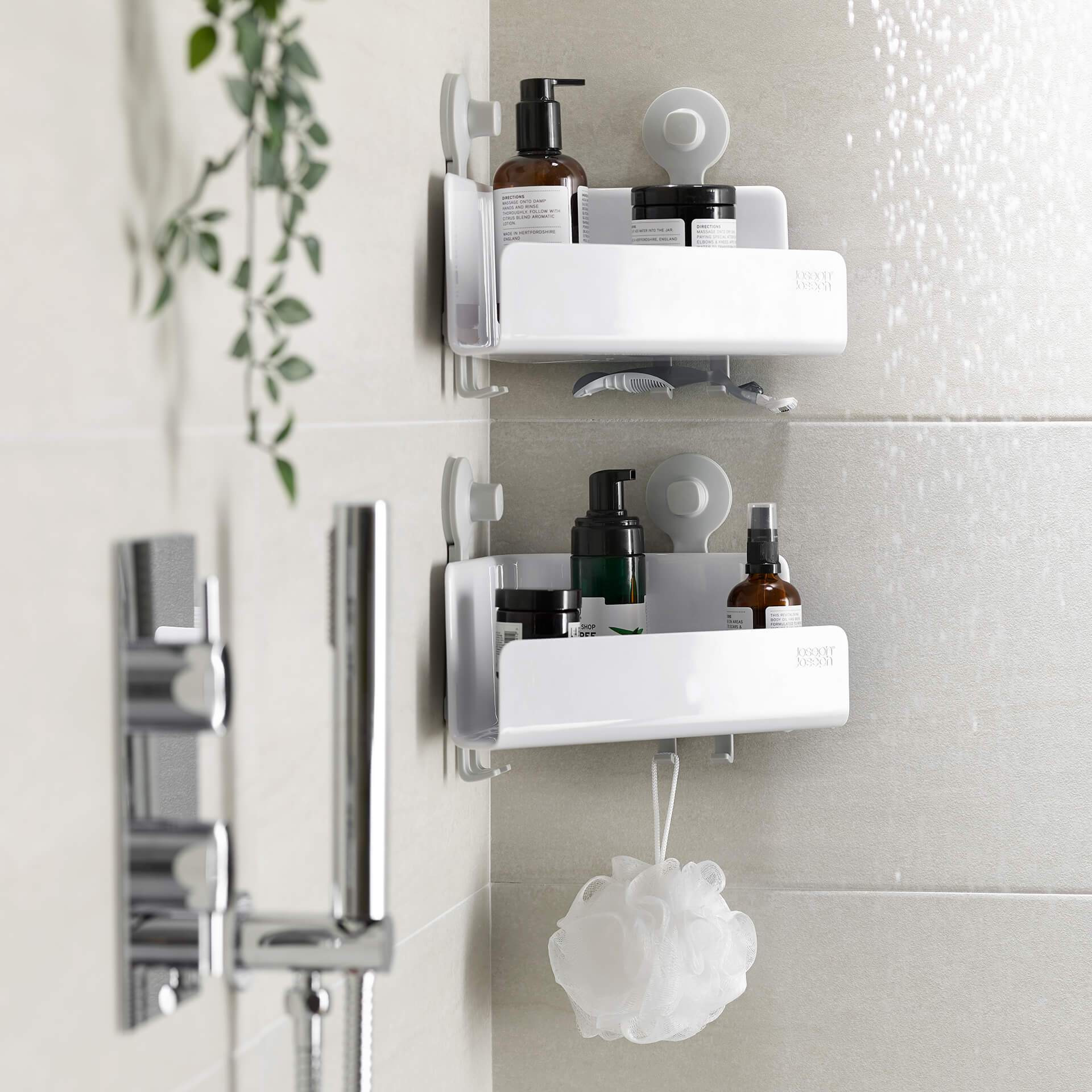 EasyStore
Slimline Shower Squeegee for the bathroom

There is nothing worse than a shower screen with water stains which is why every shower needs the Joseph Joseph EasyStore Slimline Shower Squeegee to keep it as squeaky clean as you.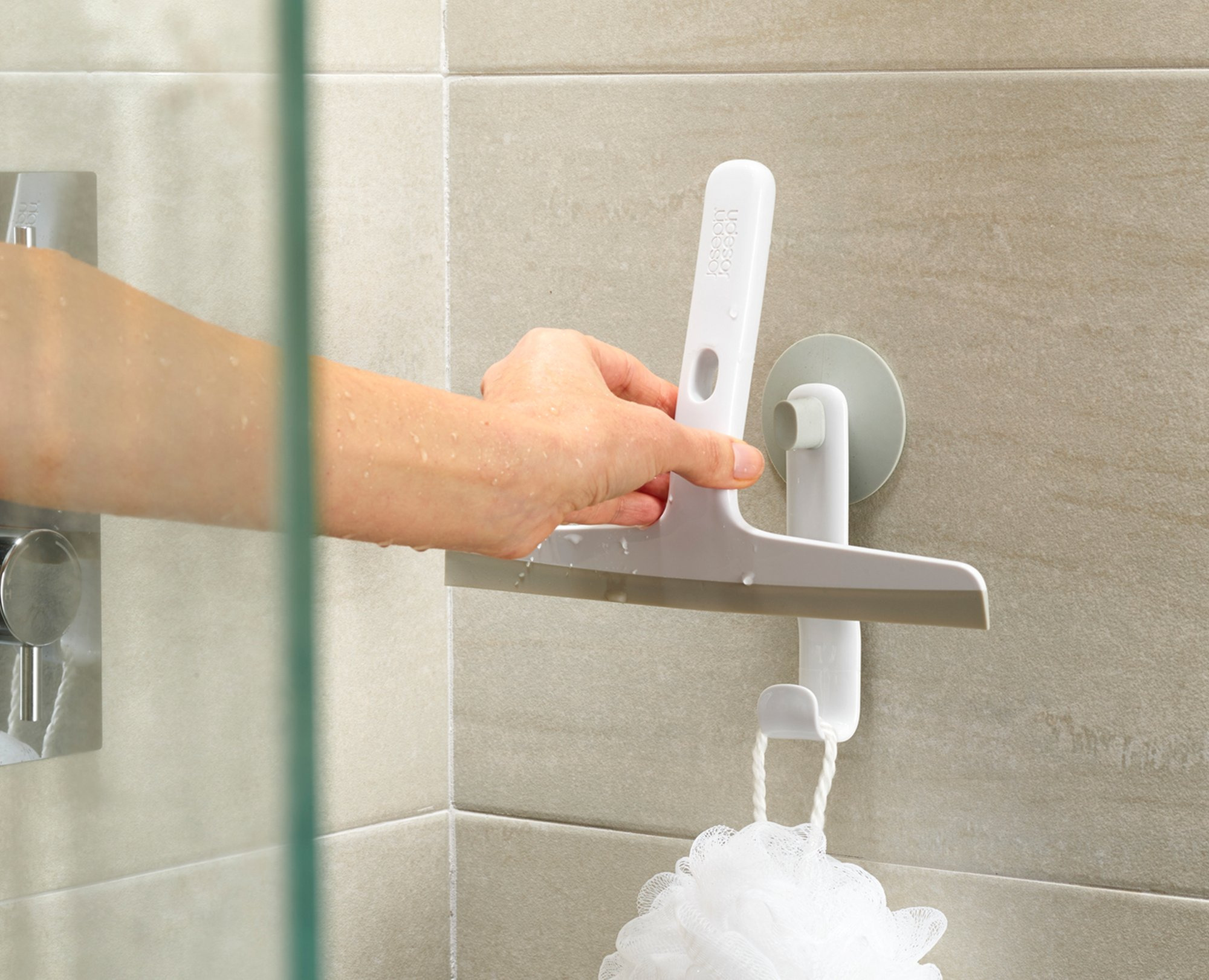 Shop EasyStore Slimline Shower Squeegee
Laundry Room Accessories
We all want a tidy laundry room, and with Joseph Joseph, you can have your wish come true. Their team of designers have worked tirelessly over the past few years to bring you the products that will make your laundry room a tidy haven. Their Tota 90L Laundry Separation Basket is perfect for sorting your laundry and the Pocket Folding Ironing Board, a great way to save space with its condensed board.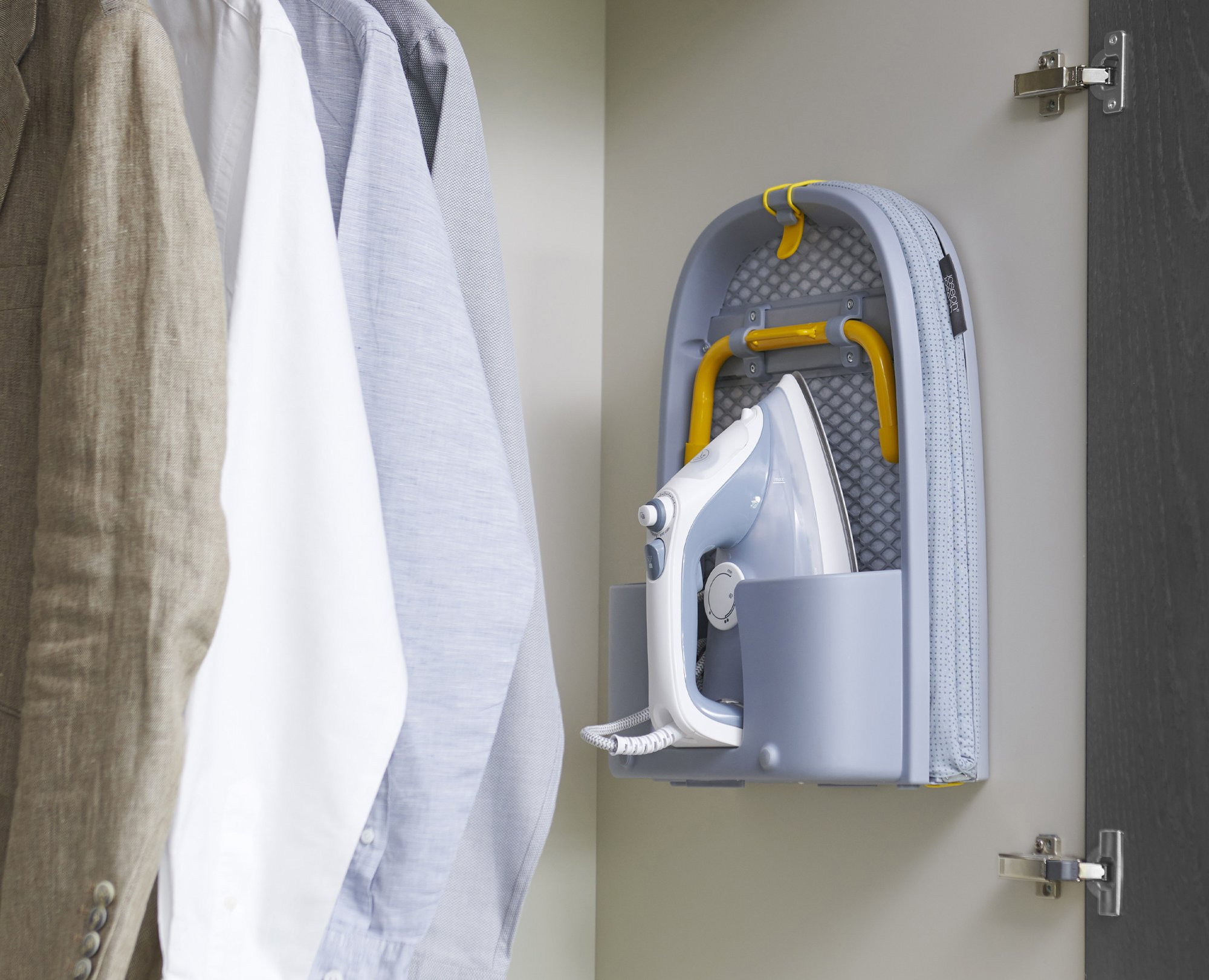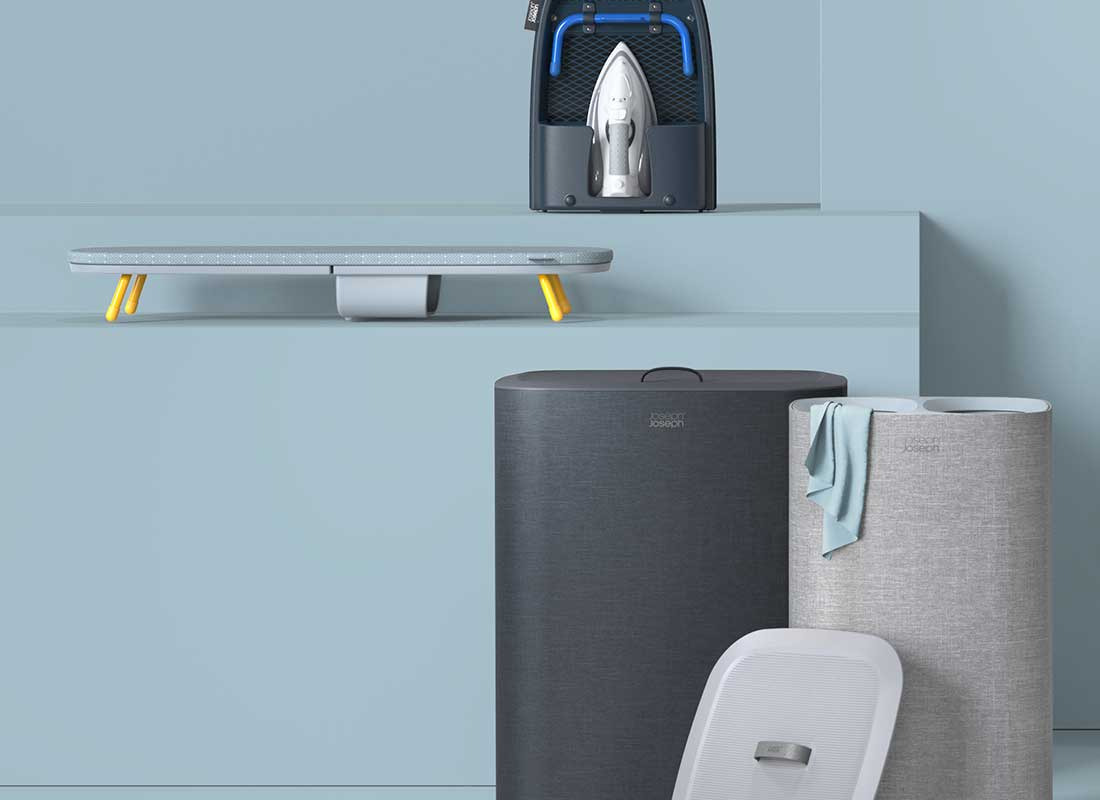 The motive behind Joseph Joseph
With a family history in design and manufacturing, twin brothers Anthony and Richard Joseph kept the family tradition by becoming highly trained product designers.  They shared a passion and excitement for creating practical, innovative, and stylish products for the home. In 2003, London based Joseph Joseph was born, and their journey to create unique and innovative products for the home began. To this day, they are constantly thinking of new products to help their customers ease their home lives.
To start making your home life easier, check out their website.
Shipping fees within Europe are 12€ for orders up to €50 - (free delivery on all orders over €50). They are currently shipping to Austria, Belgium, Bulgaria, Croatia, Denmark, Estonia, Finland, Greece, Hungary, Ireland, Italy, Latvia, Lithuania, Luxembourg, the Netherlands, Poland, Portugal, Romania, Slovakia, Slovenia, Spain and Sweden.  Shipping fees to France & Germany €5.99 for orders up to €50 (free delivery for orders over €50). Shipping fees for UK  £3 on orders up to £30 (Free delivery on all orders over £30) For shipments to countries outside of the EU, customs and additional fees may apply depending on the destination country. Please note that Joseph Joseph no longer delivers to Malta or the Canary Islands.