Elvis & Kresse create sustainable genuine leather bags, wallets and accessories
Elvis & Kresse recycle used and waste materials into luxury, handmade, sustainable, genuine leather men's and women's bags, purses, wallets and leather accessories.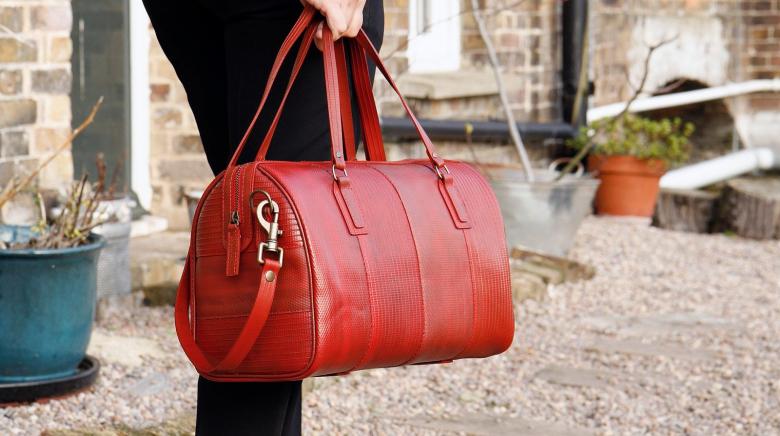 Elvis & Kresse not only make a difference in the fashion world of leather goods, sustainable cardholders, ethically made wallets, men's bags and women's handbags, but they also make a difference to the environment. Elvis & Kresse are helping the planet by reclaiming used and waste materials and turning them into luxury leather bags that ooze style and sophistication. Take their eco-friendly cardholders that give you a professional look, recycled wash bags for those weekends away and ethical leather wallets that make a bold statement.
The story of Elvis & Kresse began in 2005 after the founders, husband and wife team Elvis and Kresse, had a chance meeting with the London Fire Brigade.  They were both alarmed and dismayed when they discovered that London's damaged decommissioned fire hoses were destined for the landfill.  With the launch of Elvis & Kresse, they started by turning those disused fire hoses into luxury leather bags, wallets and accessories.  Thanks to Elvis & Kresse, none of the London's fire hoses has gone to the landfill for over a decade and over 200 tons of material has been reclaimed. Elvis & Kresse went a step further by donating 50% of the profit from the Fire Hose Collection to The Fire Fighters Charity.  We shall learn more about the founders and the charities they have helpèd further down in this post.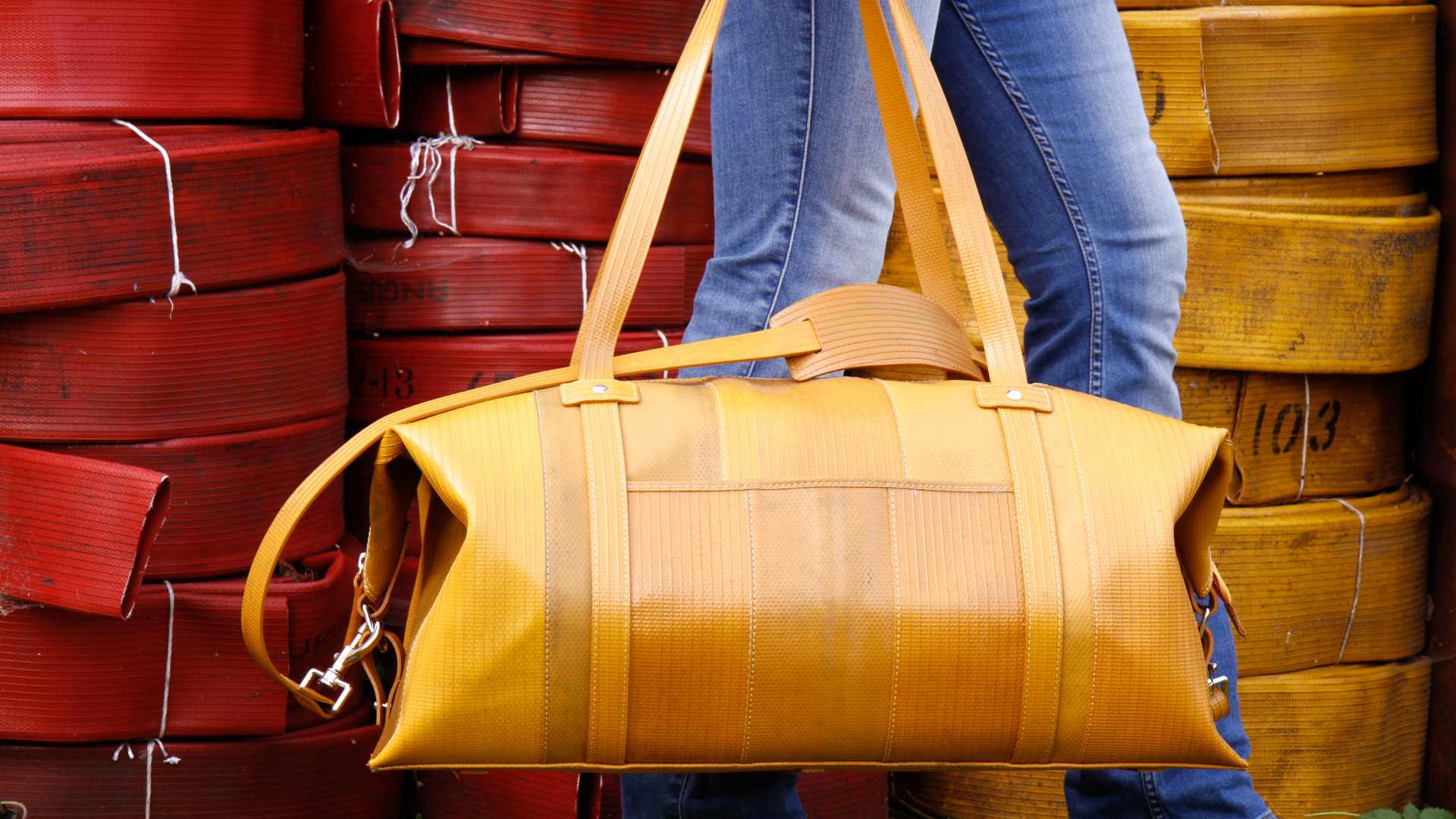 Sustainable, durable and fashionable leather goods and accessories for men and women by Elvis & Kresse
Elvis & Kresse offer a wide and unique collection for men and women in the way of leather handbags, ethical leather wallets, sustainable leather belts, eco-friendly wash bags and leather accessories, including iPad cases and leather laptop cases.  All the leather products that Elvis & Kresse design are handmade by quality craftsmen who transform waste materials into unique, stylish, sustainable luxury leather designs that stand out from the crowd. Let us take a look at some of these genuine leather handmade works of art.
A great selection of women's handmade, reclaimed leather  bags by Elvis & Kresse
Whether it is a genuine leather handbag, reclaimed leather tote shopping bag, leather cosmetic bag or the much needed overnight bag, Elvis & Kresse have every style of bag that women need to serve them on any occasion.  Created by true craftsmen with handpainted bound edges and embossed with the Elvis & Kresse logo, these sustainable bags will last a lifetime and not just a  season.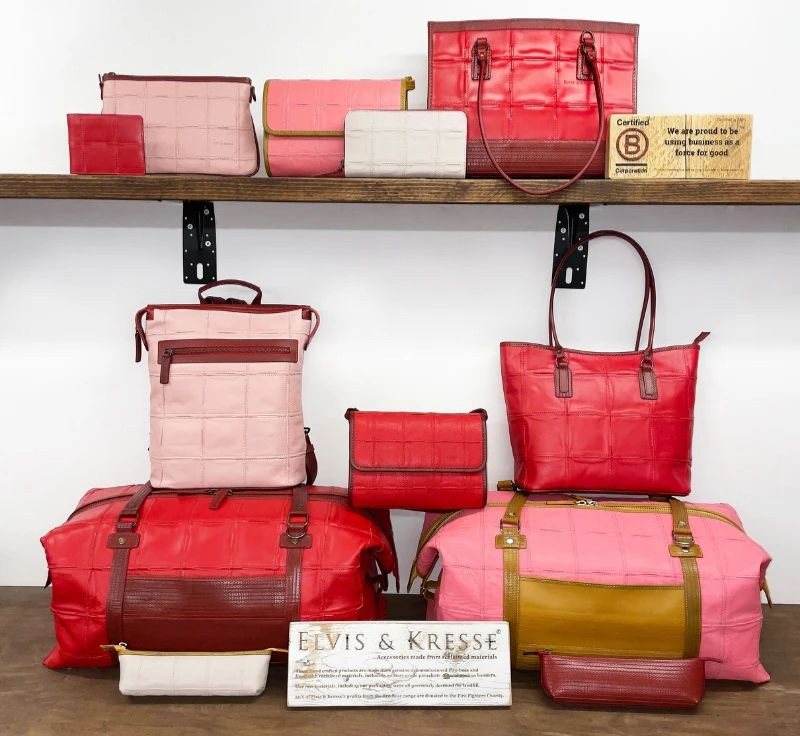 Stylish, genuine reclaimed leather purses by Elvis & Kresse
The perfect accompaniment  for your Elvis & Kresse handmade leather handbag is the collection of recycled leather purses designed by Elvis & Kresse with women in mind.  The clever designers at Elvis & Kresse have made sure they have a suitable purse for every occasion. Take, for instance, the Fire & Hide Purse made from a combination of rescued leather and decommissioned fire hose and boasting a reclaimed military-grade parachute silk lining. The purse also has 12 sections for credit cards and business cards, a zipped internal coin compartment,  and separate areas for notes, receipts or smartphones. The Fire & Hide Purse is ideal for any occasion.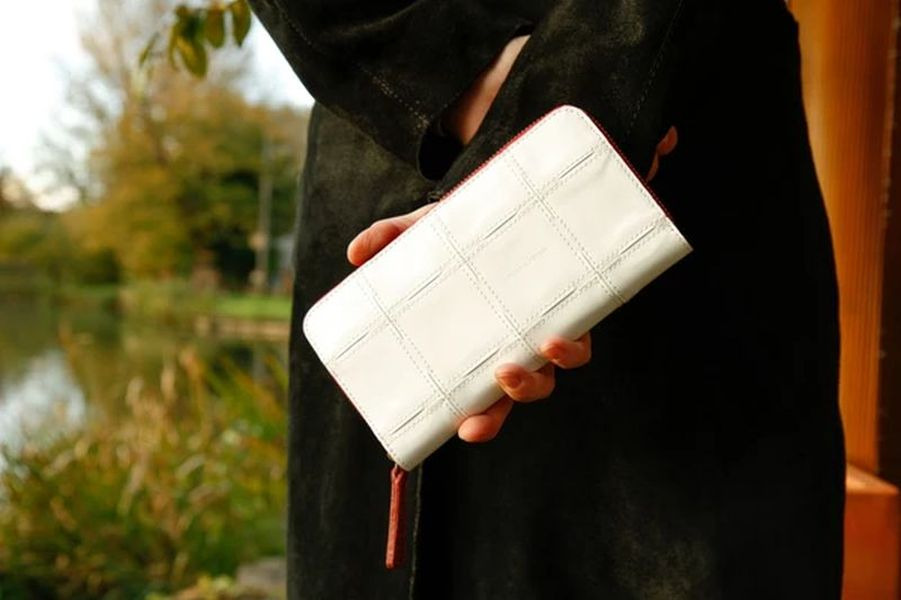 Elvis & Kresse also make sustainable, handmade, luxury Men's leather bags
Elvis & Kresse have designed a unique collection of men's bags ranging from a travel bag, a backpack bag and a compact briefcase to the reporter bag.  All created from reclaimed leather, and with a robust construction, these bags will last through the toughest of handling, perfect for the man about town or the rugged adventurer.  The bags are all embossed with the Elvis & Kresse logo, handmade by the finest craftsmen, water-resistant and have a wipe clean exterior.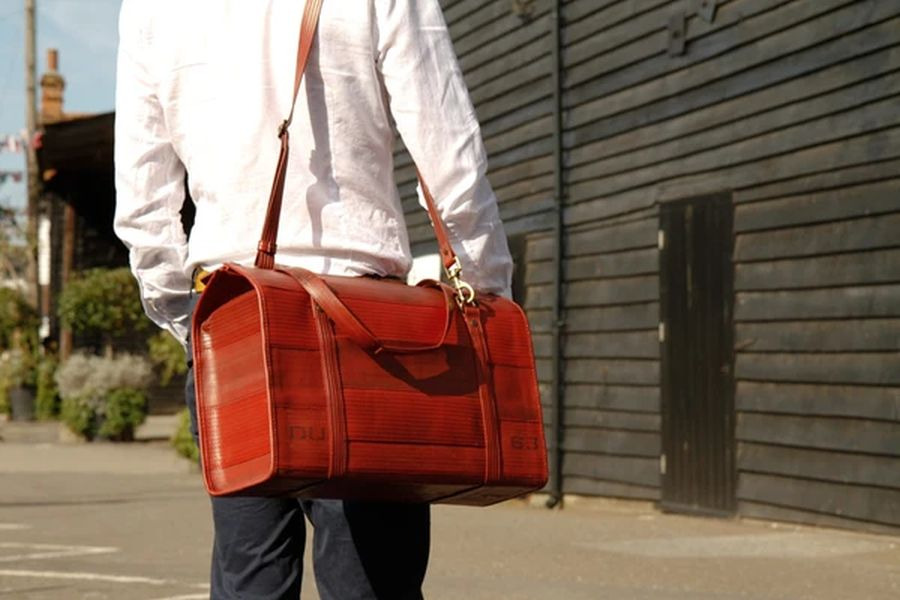 Elvis & Kresse make sustainable, genuine luxury leather wallets for men
Elvis & Kresse have taken their men's wallets to a whole new level. From their Fire Hose Collection, made from decommissioned fire hose which has softened but kept its strength, to the Print Room Wallet made from reclaimed black printing blanket on the exterior and lined with reclaimed military-grade parachute silk. These stylish, robust wallets will serve you through the years, whether for business or pleasure.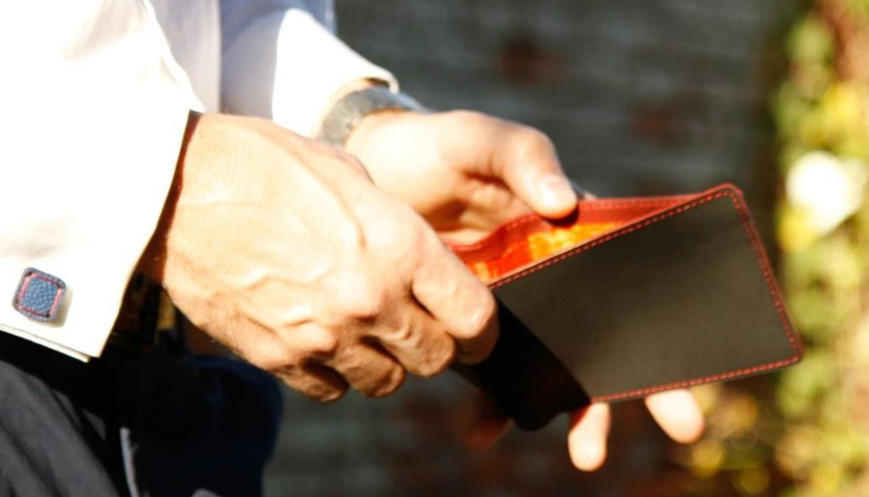 Elvis & Kresse cover your technology needs with their leather laptop cases, iPad covers and iPhone Cases
Whether in the home or the office, you can look stylish and professional with Elvis & Kresse genuine leather cases for iPhones, iPads and laptops. Take, for example, their Fire & Hide Folio/Laptop case, measuring 13" with the exterior made from rescued Burberry leather off-cuts and decommissioned fire hose and the lining made from failed parachute silk panels from Wales.  There is also the iPhone 5 case, handmade to order in Kent from decommissioned fire-hose. With the hose itself being vintage, the leather bears the scars of a hard life fighting fires, giving the case a unique hard-wearing look whilst retaining a stylish shape. With the lining made from reclaimed parachute silk, you have added protection for your iPhone screen.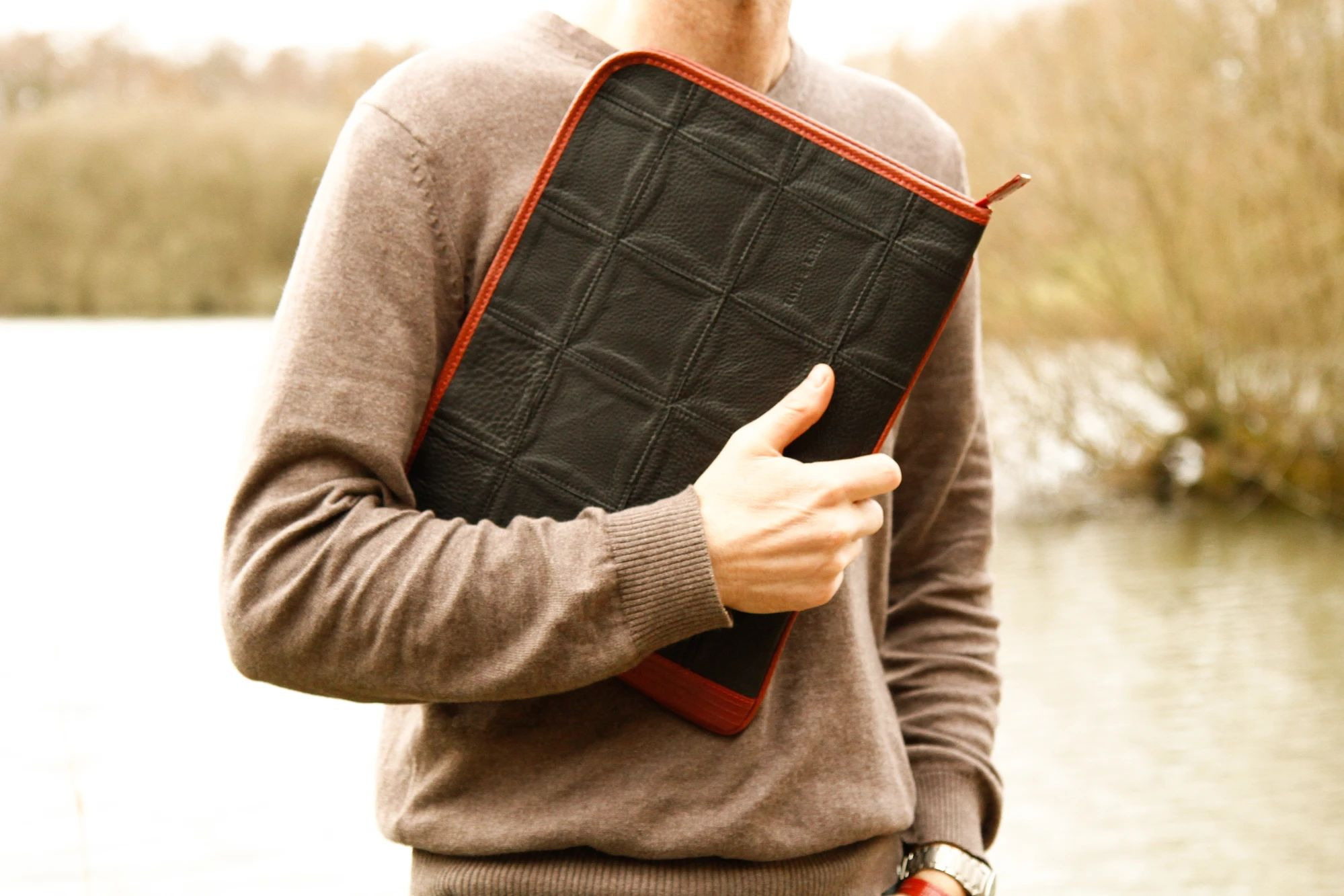 Sustainable luxury leather accessories by Elvis & Kresse
Elvis & Kresse have put together a great collection of leather accessories, ranging from leather key rings, genuine leather wrist bands, reclaimed leather wrap around cufflinks and leather single and double cardholders.  All embossed with the famous Elvis and Kresse logo.  Take advantage of their personalisation service achieved by laser etching directly into the fire-hose.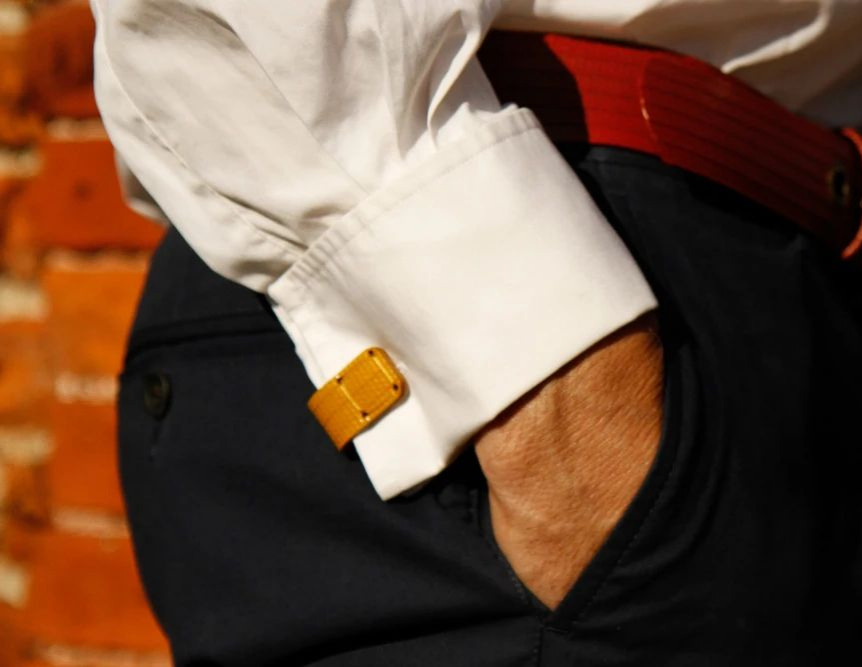 Design your own leather accessory at the Elvis & Kresse workshop
Elvis & Kresse know how good it feels to have something unique to you, which shows your personal style, so they offer a service where you can attend the Elvis & Kresse workshop at Tonge Mill. The mill was built in 1837 and lovingly resorted by Elvis & Kresse in 2013. They offer a wide selection of leather colours and textures and teach you how to design and assemble your own leather piece. You will be provided with refreshments, have a chance to meet the famous founders of Elvis & Kresse and take a peek behind the scenes.
Elvis & Kresse is built on a solid foundation of helping the environment
Since 2005, Elvis & Kresse have gone from strength to strength with their mission of using only recycled and unwanted leather.  Each of their designs has been lovingly restored, treated and transformed, resulting in every piece of leather being uniquely different from the rest. The restored leather has character, sustainability and durability, so they last for decades instead of seasons.  Kresse had always had an obsession with waste materials and loved the idea of reclaiming them and putting them to good use. Together with Elvis, her husband, they are working towards a time without landfill when everything can be restored and re-used. It is this dream that has built the solid foundation which Elvis & Kresse has today.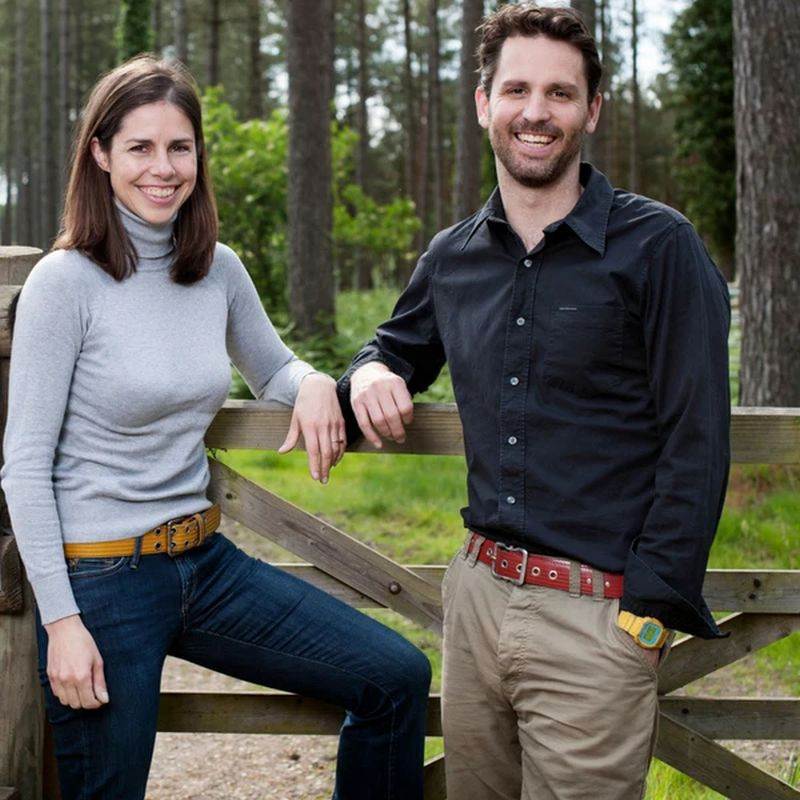 Elvis & Kresse are on a mission to rescue, reclaim, transform and donate
Elvis & Kresse believe in giving back, which is why they donate 50% of the profit from all of their collections to charities related to their rescued materials. This practise has been in place since the launch of Elvis & Kresse. They will continue to rescue, reclaim and transform decommissioned fire hoses, used parachute silk and printing blankets, to name but a few. Elvis & Kresse are making a big difference to this planet, donating to good causes and supplying you with high quality, sustainable, luxury leather goods.
Shipping & Delivery
Elvis & Kresse offer free delivery for orders over £100  to the UK, Canada and the US.  Delivery to the EU is free on orders over £150.  Delivery to the rest of the world is free with orders over £200.  Goods are shipped from Monday to Friday.  For more information visit their SHIPPING page.