Eden Mill premixed cocktails, craft beers, flavorful gins & classic Scotch whisky
Eden Mill mixes old-world Scotch distilling with cutting-edge flavors and techniques in making flavorful beer, whisky, gin, and premixed cocktails.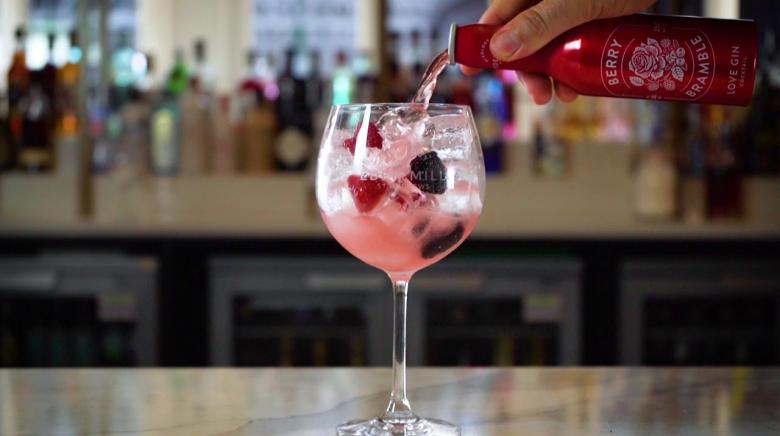 The Eden Mill Mixology Project of premixed cocktails is just one of Eden Mill's innovative libations
A blend of fresh berries, elderflower and the delicate floral elements are softly mixed together creating the one-of-a-kind Berry Bramble Love Gin Cocktail. But you don't need a professional mixologist to carefully measure, mix, and shake this lovely delight. All you need is a glass and ice.
The team at Eden Mill suggests that you garnish your premade Berry Bramble Love Gin Cocktail with blackberries. Fresh berries will enhance the taste of rhubarb spice and sweet strawberries with vanilla that make this cocktail so unique.
Eden Mill's creative minds created premixed libations inspired by and made from their botanic gins and spirits, keeping far ahead of the trend. 
The Maverick Martini is a year-round favorite. It's made to mimic a real modern classic cocktail, shaken, stirred, or on the rocks. For the warmer seasons, the Love Bellini Love Gin Cocktail is a springtime favorite, lightly fizzed with Scottish raspberry and a twist of vanilla in a garden inspired Bellini. Perfect for a hot summer day, the Basil Smash Hop Gin Cocktail blends herbs with watermelon and lime. And for a holiday favorite, the Candy Cane Gin Mojito is sure to raise your holiday spirits.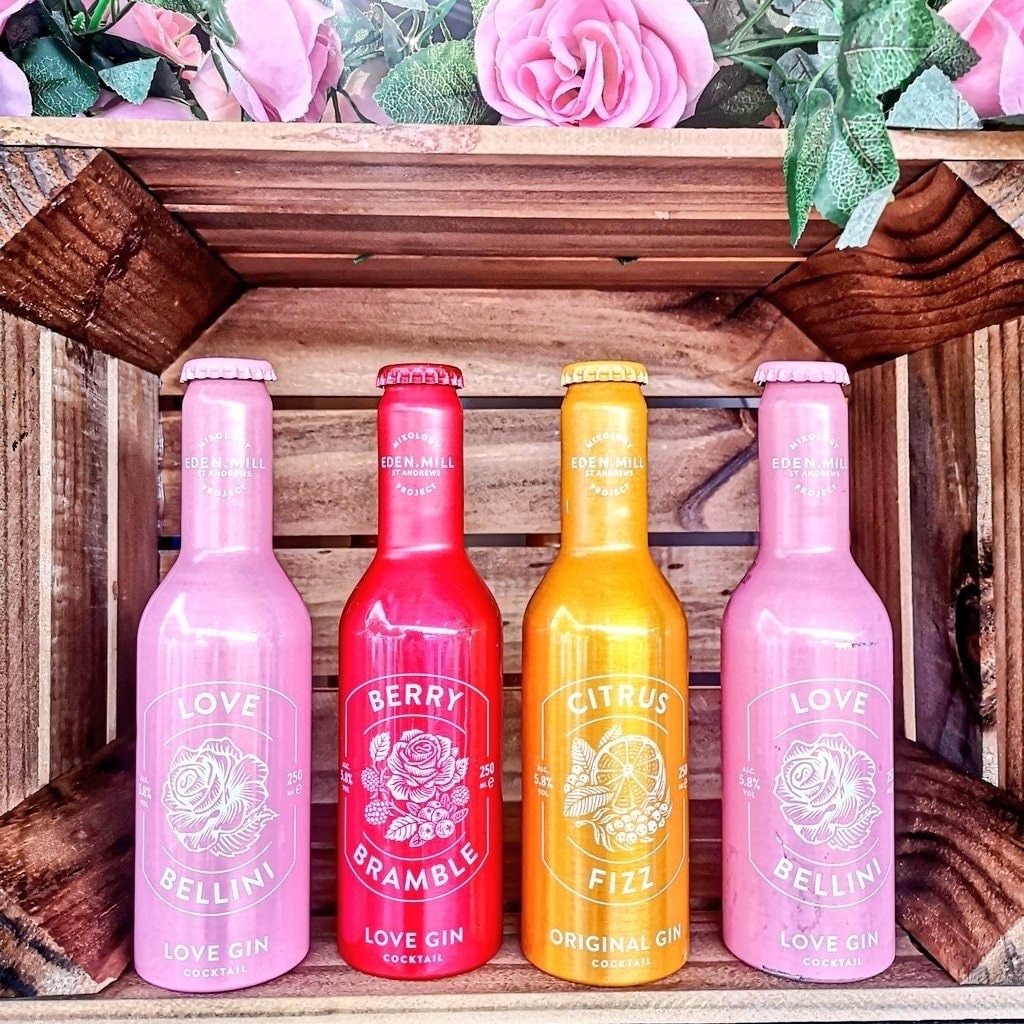 Eden Mill Mixology Project Cocktails
Eden Mill stands apart from other distilleries in Scotland by marrying old and new, and keeping a sharp eye on the future
Eden Mill is unique because they pay homage to and respect the old-school traditions of Scottish distilling practices while looking ahead to what's next. Not only does Eden Mill invest to fun, modern botanical spirits that can whip up cutting edge cocktails, but they also pride themselves on their carbon-neutral, environmentally sustainable goals.
Eden Mill sits on the site where the historic Seggie Distillery, founded by Scotch whisky pioneer William Hai, was originally built back in 1810. In July of 2012, Eden Mill took over a small unit to create their brewery, and later their distillery. In 2018 they expanded into the Seggie Distillery, where they became Scotland's first combined brewery and distillery, producing beer, hopped gin and single malt whisky. And although they still brew a darn good beer, Eden Mill is best known for its award-winning range of gins.
In the land of Scotch whisky, London-style dry gin seems like a strange signature spirit, especially for a distillery in the world golf capital of St. Andrews. But Eden Mill enjoys access to fresh water from the Eden Estuary and a close partnership with local farmers and producers, giving them the opportunity to use the best ingredients to make beer, gin, whisky, and flavored spirits. 
Eden Mill's single site brewery and distillery sits on a harsh seaside where sea buckhorn berries thrive. And those amazing little berries are what gives Eden Mill's signature gins their unique and enjoyable flavor. 
Eden Mill Original Gin is Scotland's answer to a classic London Dry Gin
In the high country known for its legendary whiskey, Gin is not the Scottish distillery standard. However, Eden Mill scored a hole in one for this particular spirit.
Located on a harsh Scottish coastline, Eden Mill thrives in the natural bite of its surroundings where only the hardiest of nature's beauty survives. Sea buckthorn berries are exceptionally hardy superfoods that enjoy harsh, salty, coastal conditions. The unique tart berry flavor is abundant in Eden Mill's Original Gin. To balance the flavor, Eden Mill's distillers added citrus elements drawn from other botanicals, such as lemon balm and citrus peel. A masterpiece was born.
Eden Mill Original Gin is never dull or flat. Instead, it takes you on a flavor journey. It features strong citrus notes of lemon peel, bitter orange, and light grapefruit. You may even notice delicate spice of coriander and clove at the midpoint and sweet white fruits like pear, lychee, and melon, and even vanilla.
Though you're welcome to get creative with mixology, the makers of Eden Mill Original Gin suggest pairing it with a premium tonic and a fresh grapefruit peel. It also makes a killer gin martini—shaken, stirred, or on the rocks. To bring out the best flavor in your martini, garnish it with a slice of juicy citrus.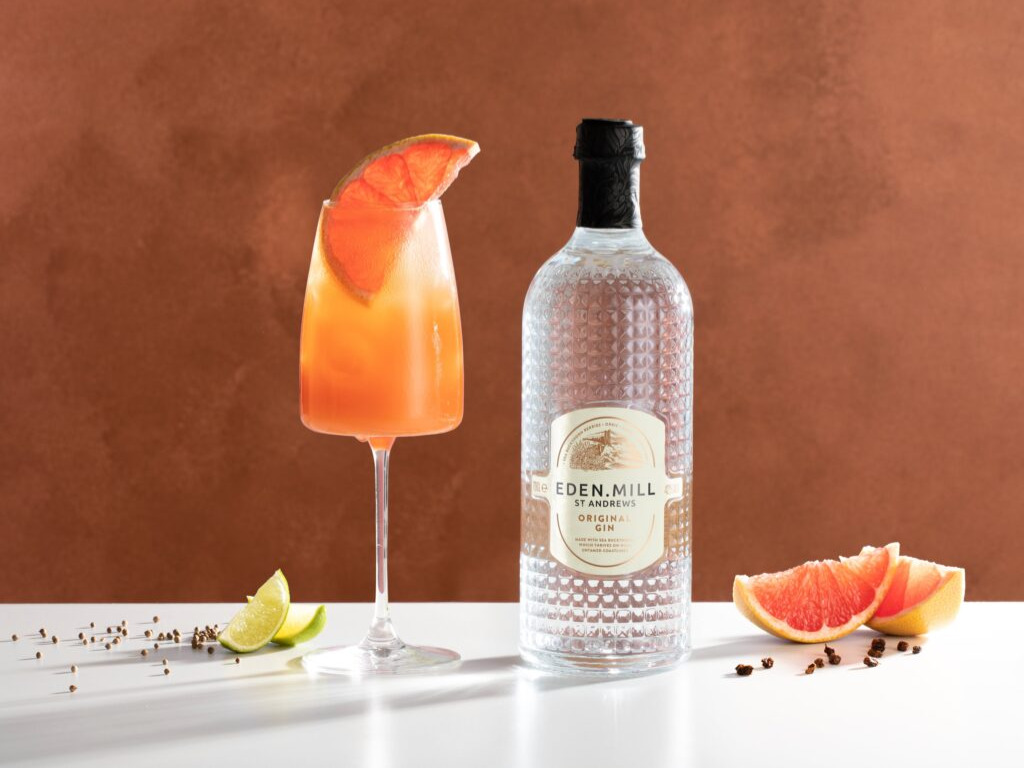 Eden Mill's Botanical Gins create fresh, trendy craft cocktails
Craft cocktail videos on YouTube and TikTok were all the buzz while humanity was collectively stuck at home. While fun-lovers missed the bartender at our favorite pubs, the video apps brought the mixologists and our favorite libations to us. 
Eden Mill was on top of that trend, sharing tasty cocktails on their YouTube channel and distributing them across Facebook and Instagram. Their expert distilling team use botanicals, inspirations, and influences from all over the world to create a range of exciting and unique gins, with each gin telling its own unique story. Since the gins from Eden Mill have such distinctive flavors, they make fantastic cocktails.
Standout gins from Eden Mill's Premium Collection include the Rosa Rosa Gin. This incredible spirit is made from Rosa Canina, a wild rose species indigenous to St. Andrews, and Rosa Damascena, an aromatic garden rose. One of the most enticing cocktails that Eden Mill has crafted on their social media is their signature take on the classic French 75 cocktail, using their premium Rosa Rosa Gin.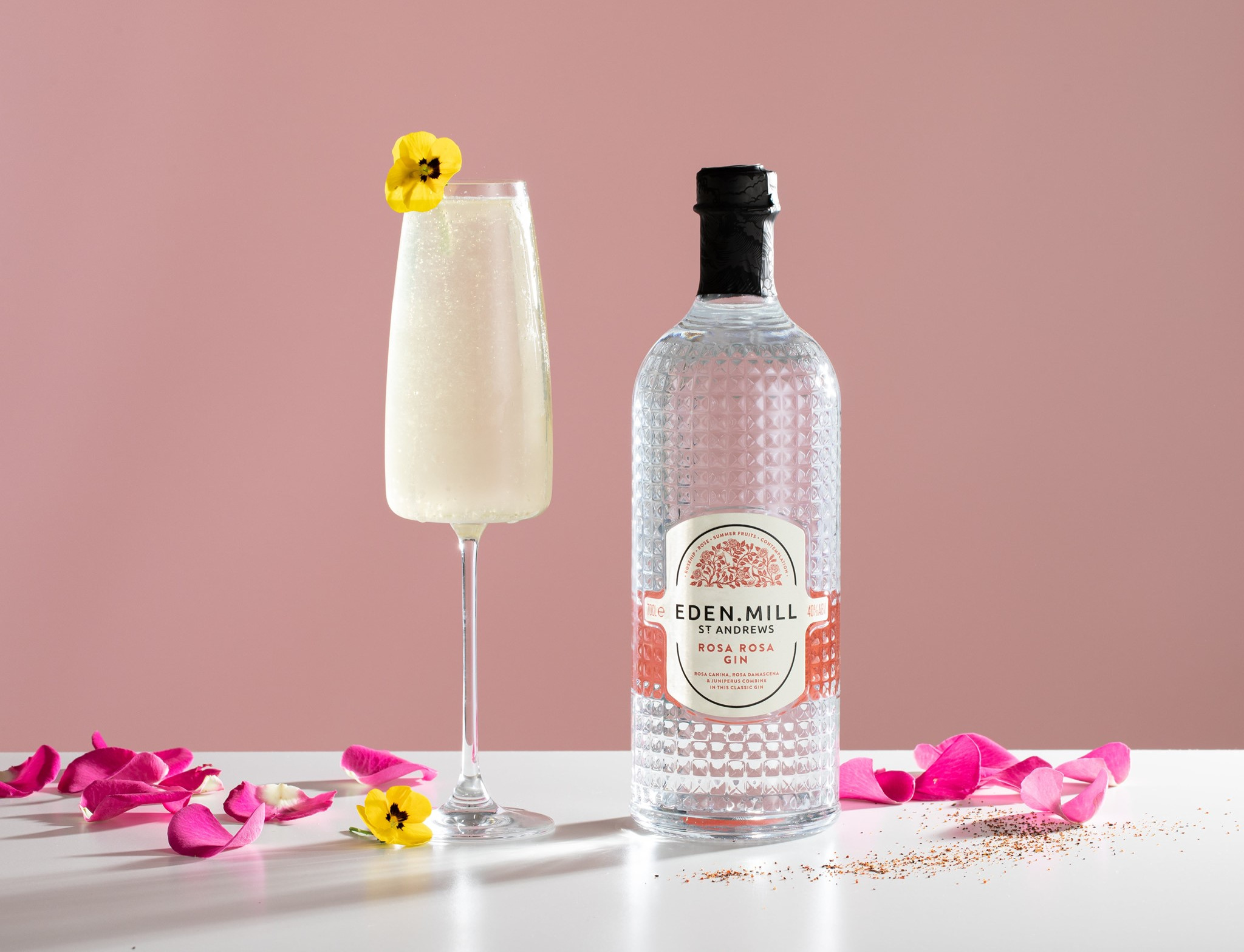 If you want to pour a cocktail that's super dreamy and out of the ordinary, Eden Mill's mixologists 'dreamed' up their own signature cocktail: Dreams of Serendipity using one of their newest premium botanical gins, Serendipity Gin. To create this wonderfully fruity cocktail, all you need to do is pour the gin, peach liqueur, lemon juice and sugar syrup into a shaker and pour over ice. Then, top it with lemonade and drizzle with Creme de Mure. Also, don't forget the cotton candy!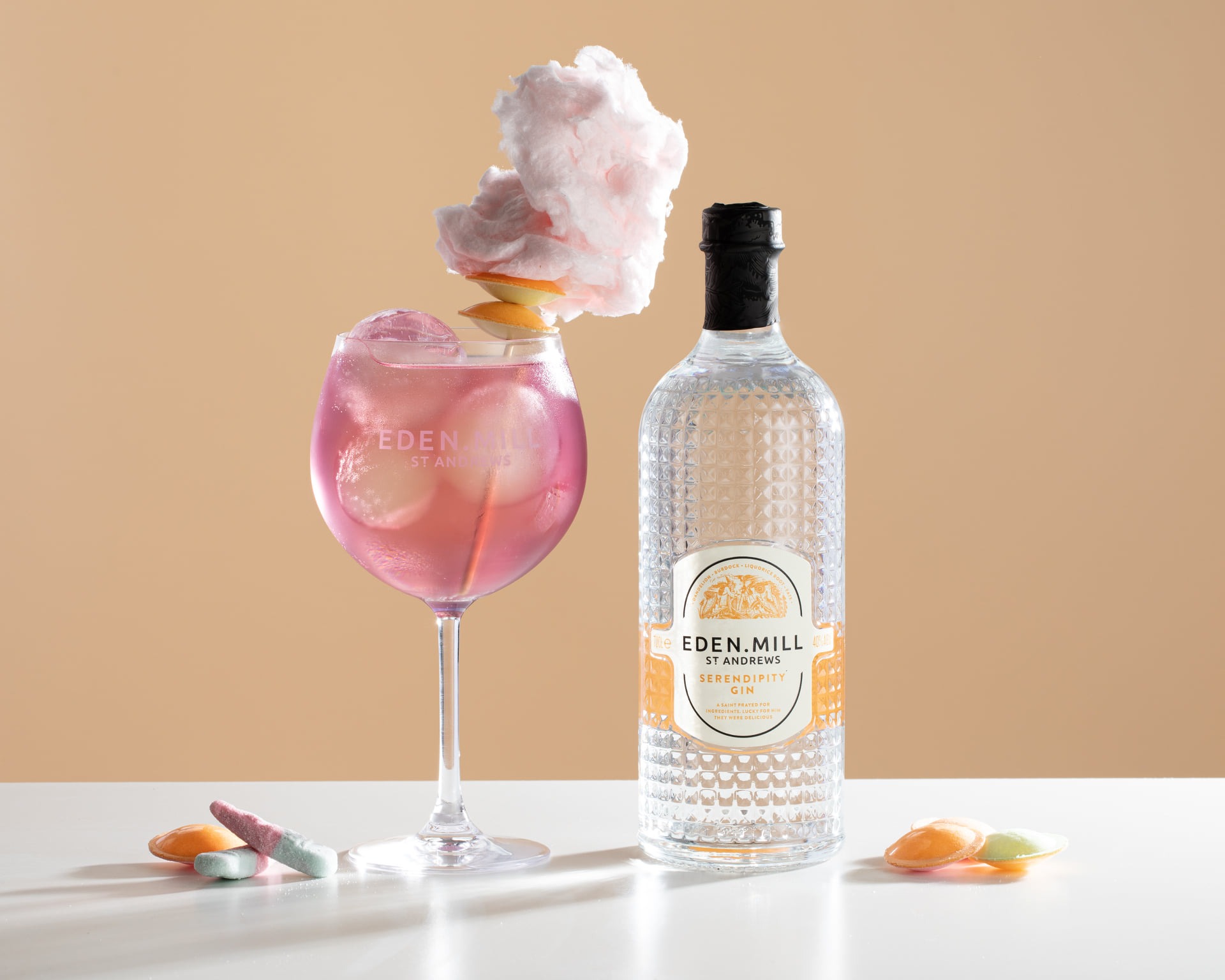 Brunch is in a golf town's DNA. To create the weekend morning staple, simply add Red Snapper Gin with tomato juice, lemon juice, Tabasco, and spices. Celery salt, a celery stalk, and some extras like olives or spicy peppers will make the perfect Bloody Mary every time.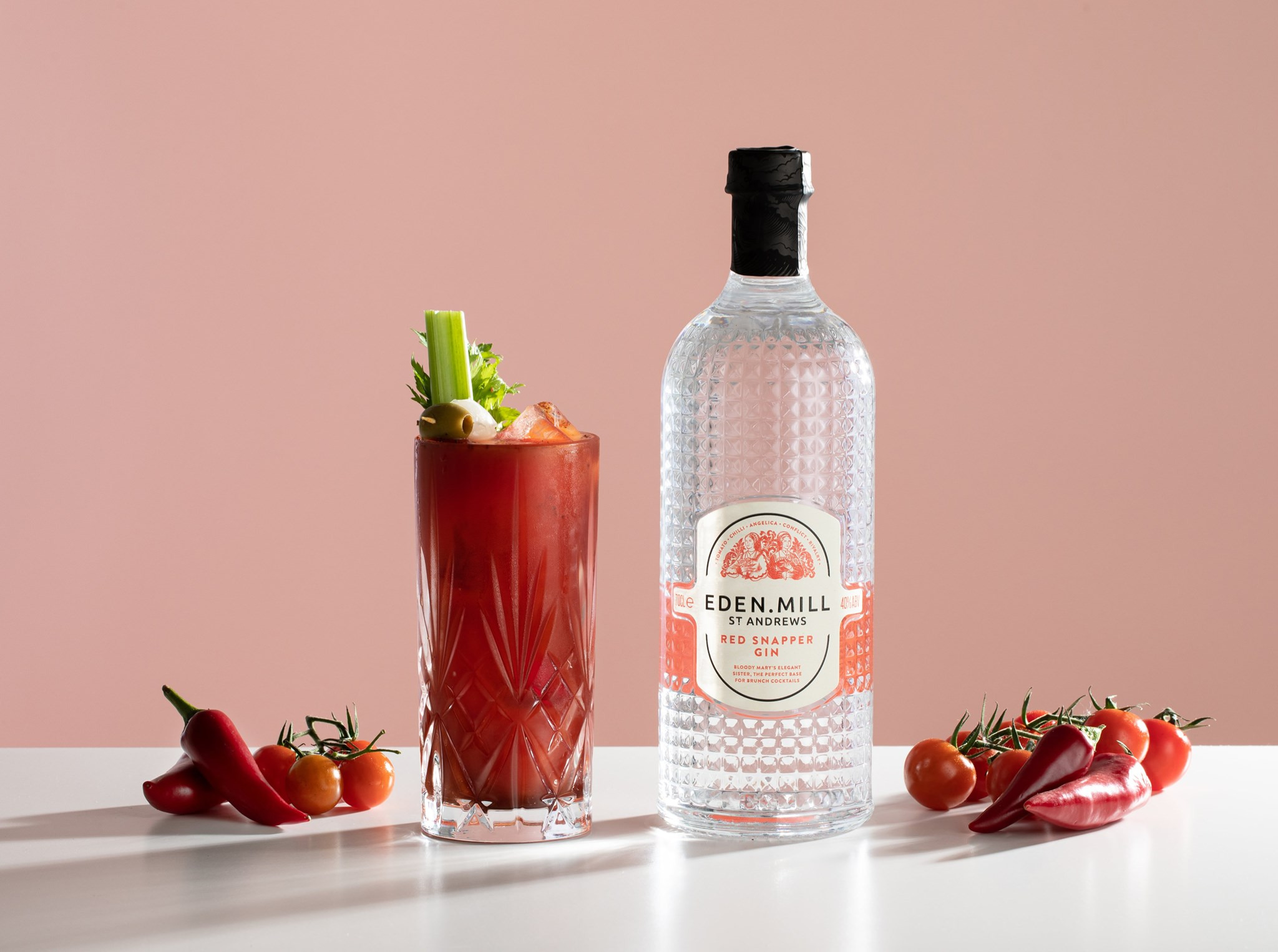 Eden Mill wouldn't be one of the premiere gin distilleries in Scotland without pushing the envelope, experimenting, and also remaining true to its roots. Eden Mill's Heritage Gin Range is inspired by the provenance of St. Andrews. These signature liquids emanate what Eden Mill stands for, by combining tradition with pioneering spirit. The Heritage Gin range uses locally sourced ingredients, combined with inspiration and innovation.
Personally curated and hand-crafted by Eden Mill's expert senior distilling team, Distiller's Choice is a collection of contemporary gin expressions which combine special techniques with premium botanical profiles. Each bottle in the collection has been handpicked by the lead distilling team based on their own personal flavor preferences and interests.
The new premium range showcases Eden Mill's passion for innovation and experimental product development, combining locally sourced botanicals with inspiration and influences from across the world. Eden Mill's premium gin range combines the best of old and new of what St. Andrews has to offer. As Scotland's first single-site brewery and distillery, they consistently push boundaries.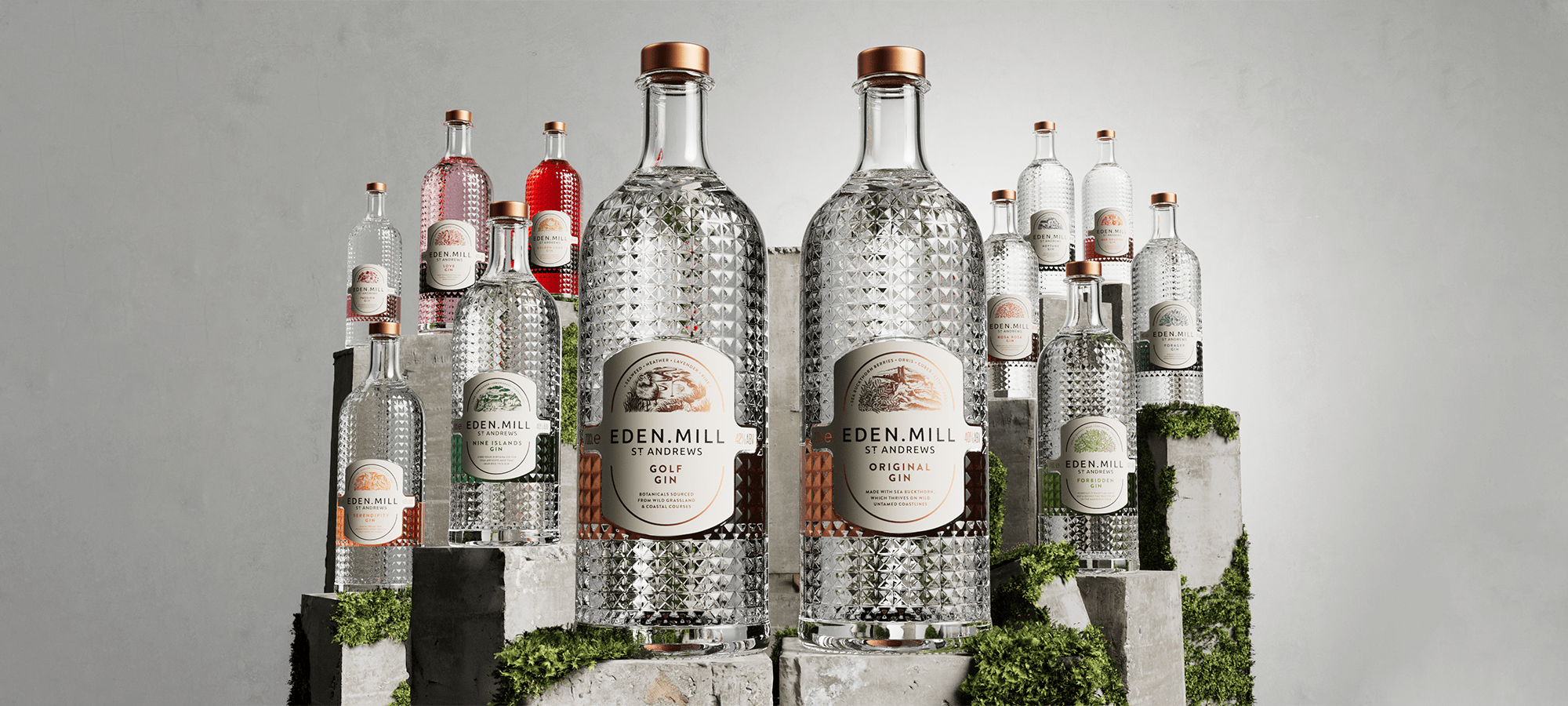 Eden Mill Premium Scottish Gins
Eden Mill is well-known as a brewery in St. Andrews, and its beers stay true to the region's natural flavors
The brew masters at Eden Mill also know how important it is to source the best Scottish barley and ingredients which is why their craft beer and IPA range have such an appreciative audience. 
As Scotland's original single-site brewery and distillery, Eden Mill maintains the high-quality brewing history of St Andrews. They celebrate innovation and tradition, embrace local and international techniques and are dedicated to offering the very best Scottish craft beers to the world.
And let's not forget the Scotch whisky, an homage to the historic Haig family and Eden Mill's historic site
The Eden Mill story encompasses the living and breathing the history of distilling. The site, the heritage, and reputation of St Andrews marries with the industry experience of Eden Mill's founder. Therefore, they're on a mission to create the ultimate small batch Single Malt whisky.
There is a realization, now more than ever that the value of good whisky is no longer just about its age. Re-determining value and quality is opening up a whole new world of adventure for enthusiastic, increasingly knowledgeable and discerning whisky lovers.
In April 2018, Eden Mill released their Hip Flask Series, a progressive and pioneering range of single cask expressions of Eden Mill single malt scotch whisky. The 2020 Release was the fourth single malt whisky by Eden Mill in three years, since the unveiling of the first bottling in 2017. In the same year, they also launch a limited release Cask Strength whisky. 
Once everything is open back up to the full public, Eden Mill may be a great spot for the whisky tour in St. Andrews.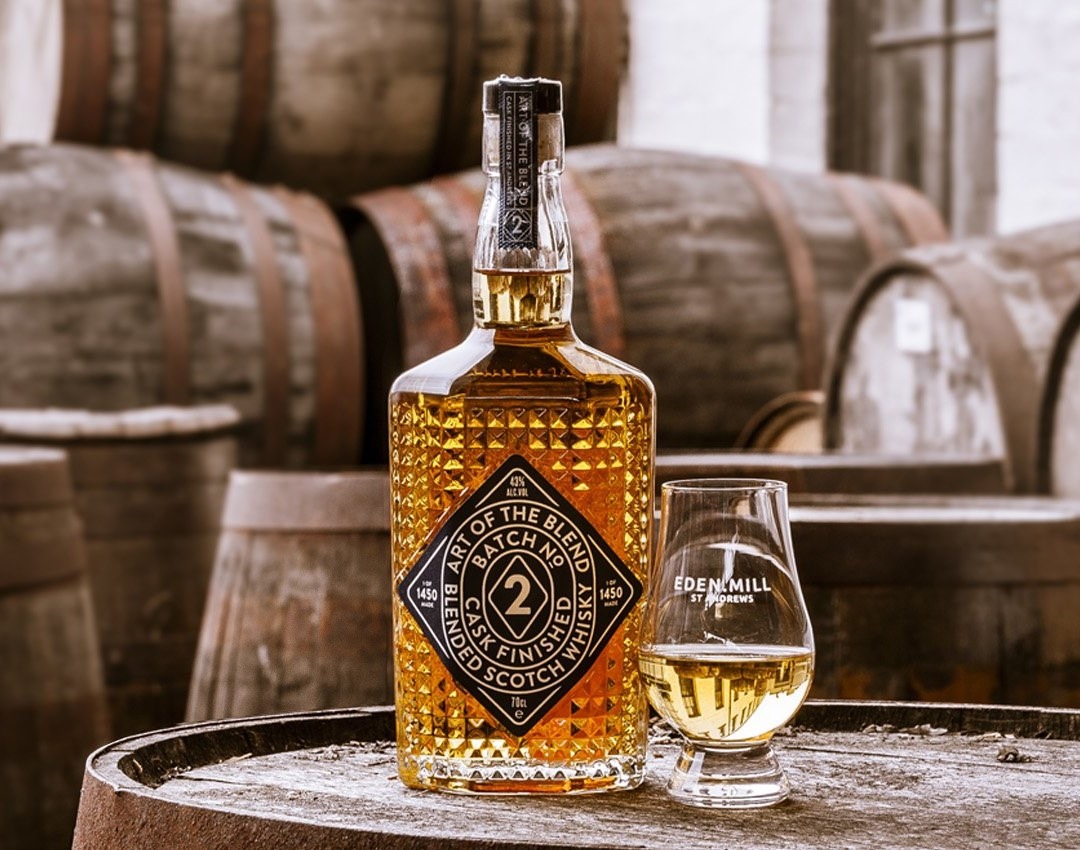 Eden Mill takes pride in sustainable distilling
Eden Mill is on a mission to lead the way for sustainability within the spirits industry in Scotland. By constantly adapting, Eden Mill is working towards a greener business model and a more sustainable future for distilleries in Scotland.
As part of this mission, Eden Mill has switched over its full range of premium gins in a brand new bespoke glass bottle, which has been created and made in the UK and uses 18% less glass than an industry-standard glass bottles. 
By spring of 2022, Eden Mill is aiming to open a new climate positive distillery in Guardbridge, St. Andrews, in time for the 150th anniversary of the Open Championships. This state-of-the-art distillery will be located within the university of St. Andrews' Eden Campus; power and heat for the stills will be supplied by the university's biomass plant and solar panels on the distillery's roof.
Shipping & Delivery
Average delivery is 2-3 working days, however in certain circumstances delivery may take longer. Current delivery times are shown at the check-out.  A standard surcharge applies to deliveries to remote postcode areas. 
Delivery charges are calculated by the total price of the all items ordered and these charges are automatically calculated in the shopping cart for your order. Additional charges apply for shipping to the Channel Isles or Scottish Isles, Ireland & Scottish borders, or preferential / international shipping. Refer to the SHIPPING page for more details.