Bedfordshire Beard Co. - makers of fine beard oil and beard grooming kits for men
Bedfordshire Beard Co. is a family-run business providing premium beard oils and balms, plus beard grooming kits, combs, and other beard care products in the UK.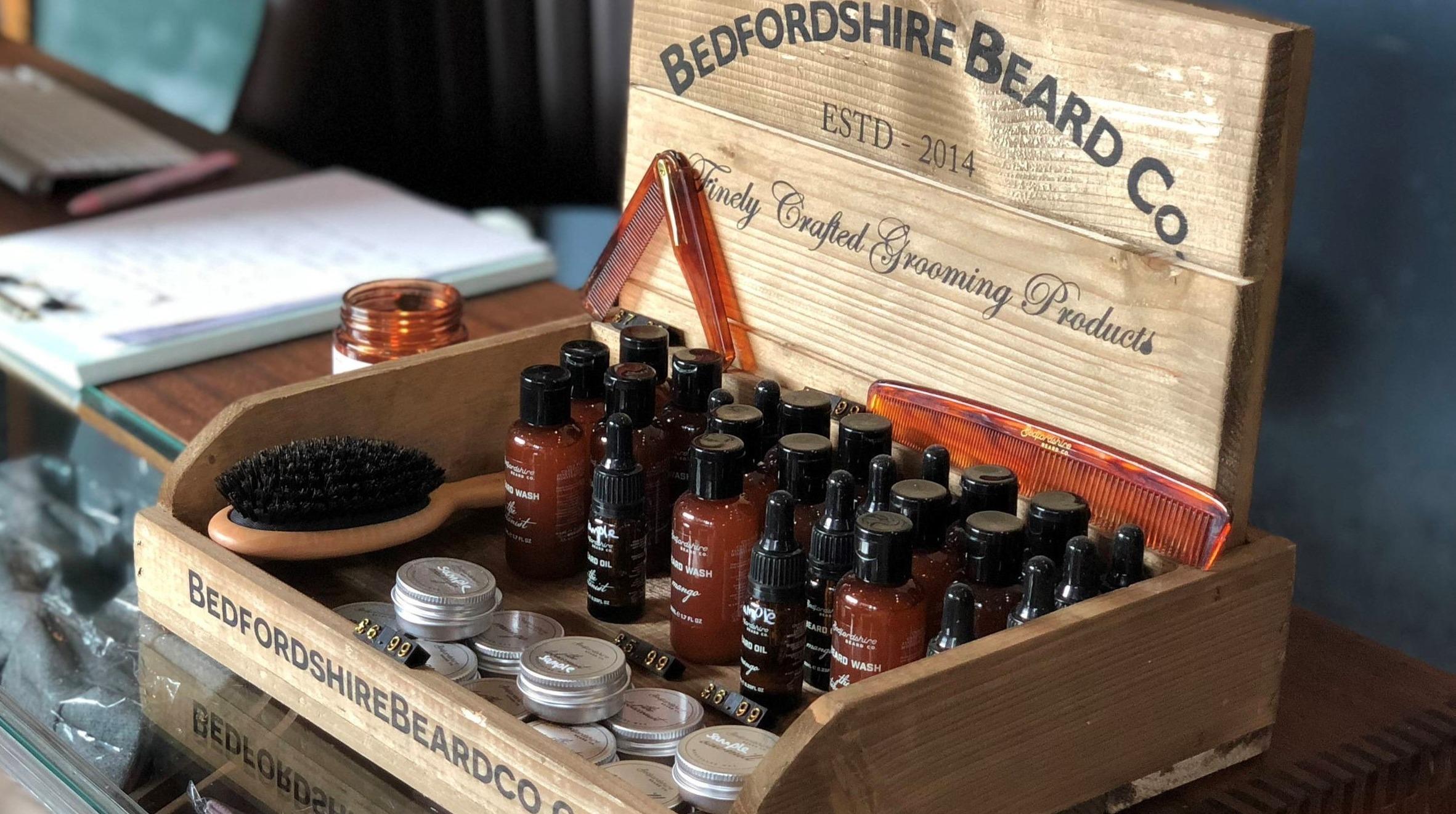 Bedfordshire Beard Co. has dedicated itself to providing men with the best beard oil and grooming kits they can buy while offering a range of other beard and skincare  products, like moustache wax and beard moisturizer. They make all of their beard products in-house and do it by hand. That makes Bedfordshire Beard Co. stand out from larger businesses that mass-produce beard oil or act as distributors of men's grooming products from other companies. 
In the rest of this post, I'll be covering a little more about the BedfordshireBeardCo story, as well as highlighting several of their beard care products that stood out to me. I'll also be providing a range of handy links so you can visit the relevant pages directly. 
Bedfordshire Beard Co. serves modern gentlemen with high-quality grooming products
Tom Dowie and his wife Caitlin founded Bedfordshire Beard. Both of them are keen to help men care for their beards, and they handle all of the responsibilities of running the business themselves. That includes administrative work and manufacturing all of the products sold on the Bedfordshire Beard website.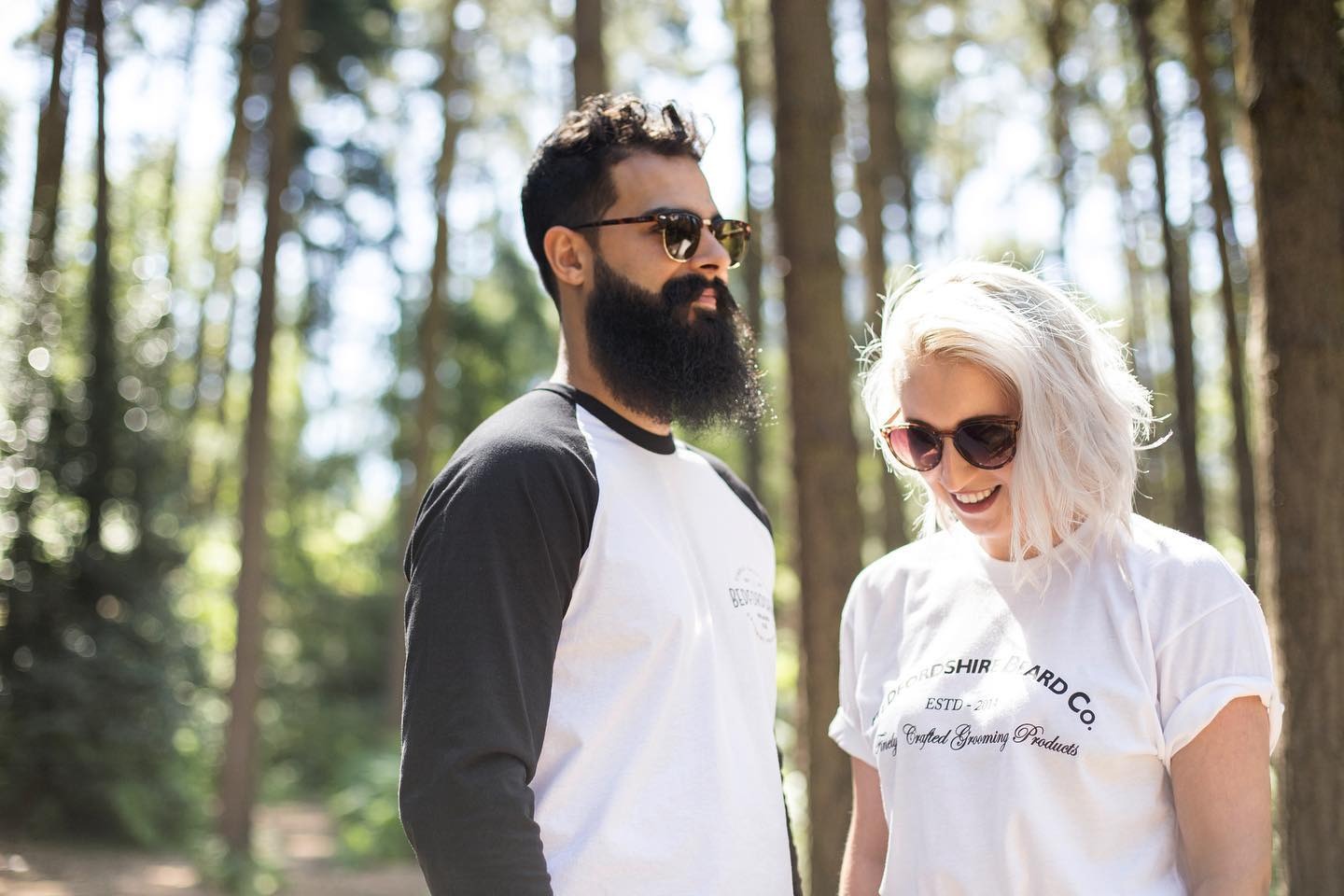 While doing this, they're also full-time parents to two young daughters, so time is of the essence! Nevertheless, Tom and Caitlin focus on making all their beard care products with premium ingredients. They involve no one else in the process, so you know who you're buying from. Tom and Caitlin also strive to deliver excellent customer service no matter what, so contacting them is always worthwhile if you have any questions. 
Because Bedfordshire Beard is a small business, you can also have peace of mind that you're buying natural products from a brand with a small carbon footprint. 
Three brilliant beard care products offered by Bedfordshire Beard Co.
In the following section, I'll highlight the Tortoiseshell Hair Comb, The Tobacconist Beard Oil, and the Deluxe Beard Gift Set. Combs and beard oils are both critical for beard care, and I felt these two products were great examples of both. The Gift Set doubles up as a grooming kit containing all the essentials, so I recommend it too. 
The Small Tortoiseshell Hair Comb 
This eye-catching hair comb is only £3.50, making it a bargain if you're looking for a good beard comb. The Small Tortoiseshell Hair Comb is ideal for touching up your beard throughout the day.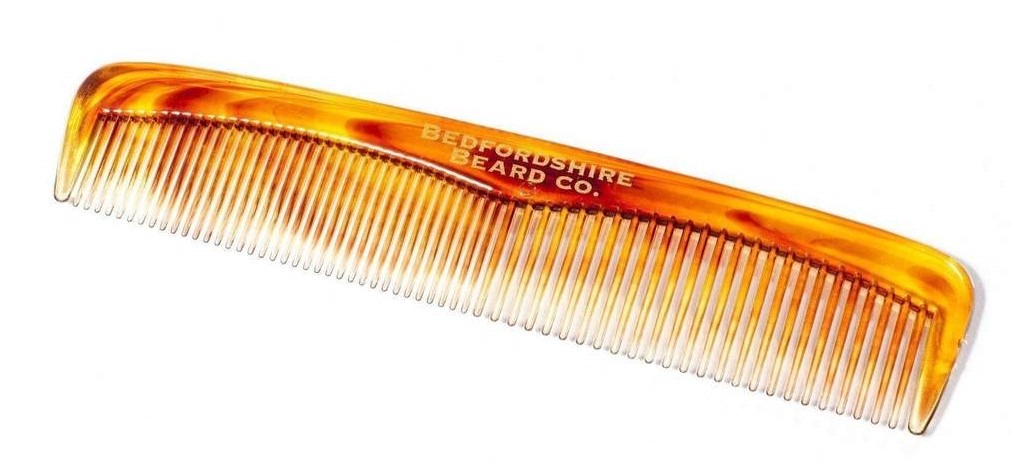 The Small Tortoiseshell Hair Comb is made from plastic that's been injection molded. It's finished with a tortoiseshell style, hence the name. One customer on the Bedfordshire Beard Co. website said it slid through their hair effortlessly and didn't leave any scratches. If you'd like more than one, you can select your preferred quantity on the Small Tortoiseshell Hair Comb product page.
Shop THE SMALL TORTOISESHELL HAIR COMB
The Tobacconist Beard Oil
For £7, you can buy some of The Tobacconist Beard Oil from the Bedfordshire Beard Co. online store. It comes in three sizes - 2ml, 10ml, and 30ml. There is a subscription option too, where if you agree to have The Tobacconist Beard Oil delivered on a regular schedule, you'll only pay £5.95 each time.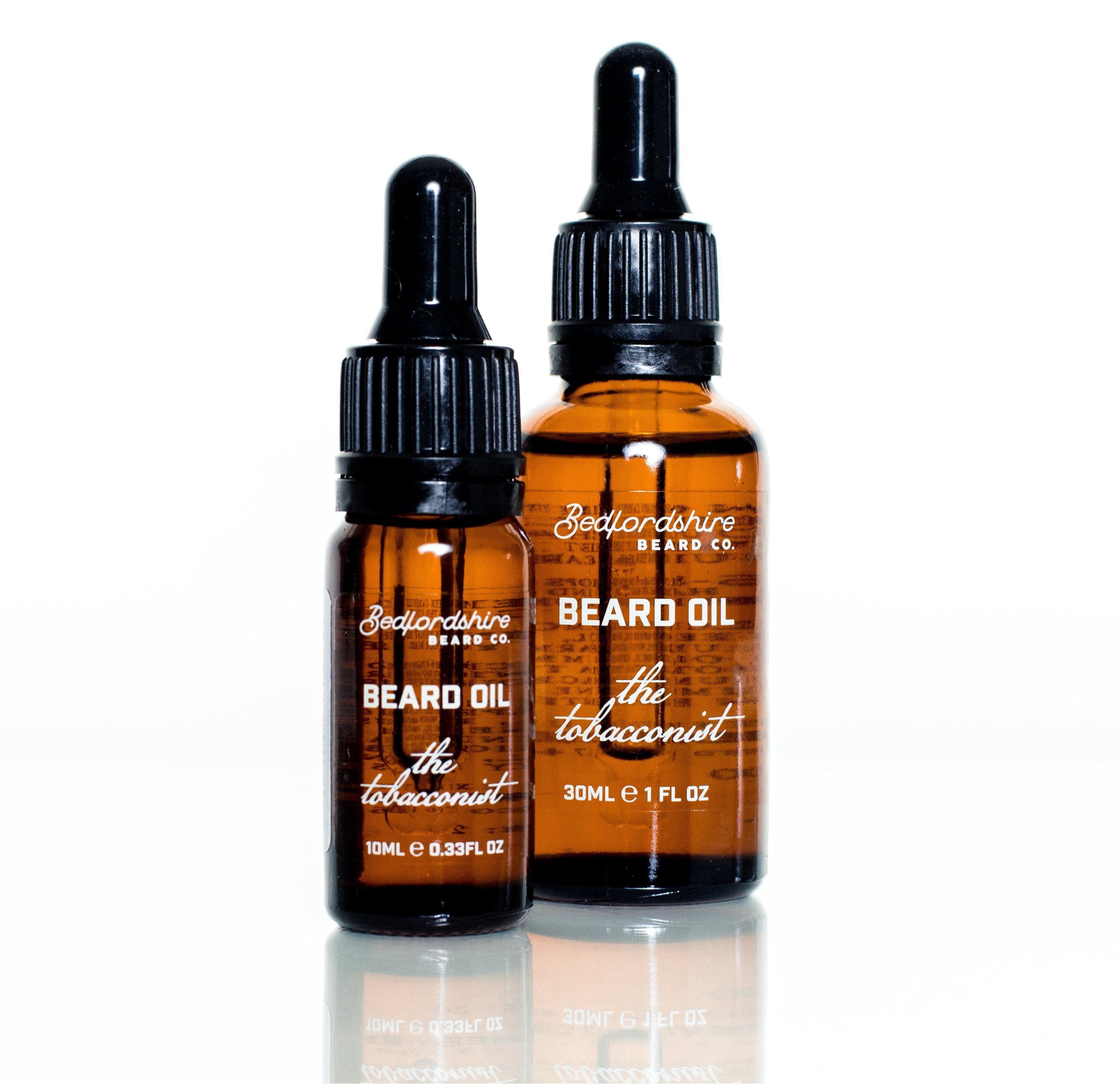 The Tobacconist Beard Oil contains a careful blend of ingredients that nourishes and moisturises your skin while conditioning your beard. These ingredients include hemp oil, almond oil, tobacco oil, and grapeseed oil. 
You can also use The Tobacconist Beard Oil for shaving. What makes it stand out is that it's got a sweet and spicy scent yet has a good dose of vanilla and a dash of black pepper. It's reminiscent of gentlemen's clubs from the 1900s. 
Shop THE TOBACCONIST BEARD OIL
The Deluxe Beard Gift Set 
For the ultimate beard care experience, this grooming kit ticks all the boxes. The Deluxe Beard Gift Set comes in a nice wooden box and features a range of essential beard care products. It makes an excellent gift for a man in your life, or you can even get it for yourself.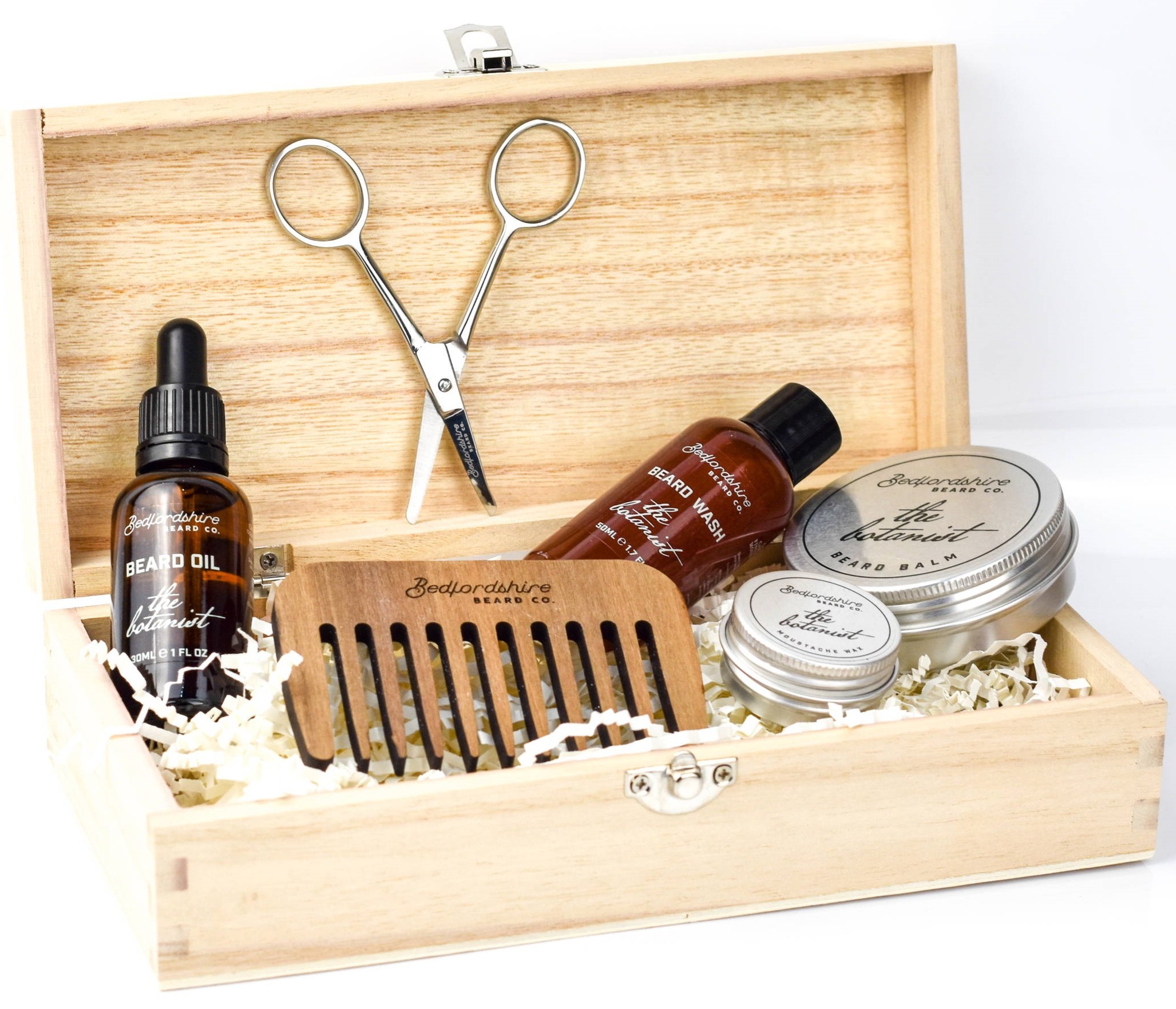 The Deluxe Beard Gift Set contains six beard care products, and they are:
30ml of Beard Oil 
50ml of Beard Wash 
60ml of Beard Balm 
15ml of Moustache Wax 
A pair of mini scissors 
A walnut beard comb 
You can specify the scents for the beard care products in The Deluxe Beard Gift Set too. Options include Fiji, Tobacconist, Vanilla, and Botanist. That means you've got plenty of choices when you order it. The Deluxe Beard Gift Set also has 15 five-star reviews at the time of writing. You can see these on the product page.
Shop THE DELUXE BEARD GIFT SET
Bedfordshire Beard Co. produce exceptional men's beard care products 
These beard care products only offer a glimpse of what you'll find on the Bedfordshire Beard website. They have other beard balms and oils, different beard grooming kits, and accessories like hair combs. What ensures they have some of the best beard oil is that it's all hand-crafted by a small family. 
Bedfordshire Beard aims to ship all UK orders within 1-2 working days. If you spend £30 or more, shipping is free. Free shipping is via 2nd class post from Royal Mail. If there are any unexpected delays, you'll receive an email notification. Unless you make a special arrangement, Royal Mail will always be the carrier. Delivery times are 1-3 working days.
You can also select a range of other Royal Mail delivery options if you wish, and the prices for these are on the Bedfordshire Beard website. They request that you pick a tracked or signed delivery option to ensure your order does not go missing. If you're willing to pay a few extra pounds, you can choose a DPD Monday-Friday or DPD Saturday delivery.
For European customers, the dispatch time and carrier are the same as for the UK. The email notification and recommendation to pick a signed or tracked delivery still apply. With Royal Mail, delivery costs vary depending on the package weight and whether it's tracked and signed for. You can see the complete price list on the Bedfordshire Beard website. You can also pick a DPD Europe delivery or a next-day DHL EXPRESS delivery if you're willing to pay extra. Otherwise, delivery times are 3-5 working days.
For worldwide orders from Bedfordshire Beard Co., the same rules and conditions apply as with European customers, except prices are a little higher and delivery times are 5-7 working days.