Cyberdog: A Camden icon clothing store for aliens and ravers
A name easily associated to the rave scene in London, Cyberdog's eclectic fashion pieces will help fellow aliens in recognising your presence on Earth everywhere you go.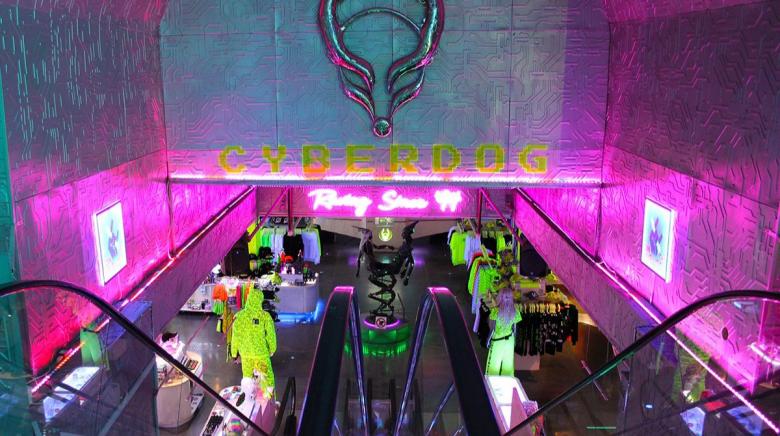 Have you ever felt like you're from other worlds, but for now, you're stuck on Earth until the planet's technology advances for space travel? Then you've come to the right place. Welcome to one of London's most unique establishments. The future is here.
Cyberdog is a fashion brand selling cyber-inspired clothing, jewellery, shoes and other accessories fit for all ages and genders. The brand offers collections in womens, mens, kids and baby sizes. Within Cyberdog, there is also an 18+ section called 'Futurelovers' that cater to help 'aliens' achieve intergalactic pleasure. Oh, and all Cyberdog pieces are made in London.
Cyberdog's roots in Camden Town, North London
Cyberdog was founded by Terry Davy, a fashion designer, and Spiros Vlahos, a business manager, in 1994. The brand made its start at a small stall in Camden Market, and the name originated from the couple's chihuahua called 'Chichi the Cyberdog'.
Cyberdog aims to be unlike any other and does not compromise when it comes to fashion. The brand even wants to conquer the universe! It refuses to follow fashion 'trends' and instead, Cyberdog invents 'techno' and cutting edge wearable designs.
A rave and club scene cult following
Over its 25 odd years of operation, Cyberdog has had a great impact on London's rave and club scene, so much so that Time Out London deemed the brand as a 'London institution'. Skepta, one of UK's top grime rappers, is a customer among Cyberdog's wide-reaching and global clientele. He collaborated with Cyberdog to create tour merchandise and later, a rave event in Manchester. As of writing, the brand has a store in Camden Town, London and another in Turin, Italy. Cyberdog has also partnered with Kappa to create an exclusive collection of athleisure pieces.
Hi-tech rave and club wear
Cyberdog offers numerous different aesthetic subsections within their hi-tech vision and some of these include rave/club wear, urban underground and even the Kawaii movement inspired by Harajuku street fashion in Japan. As of writing, Cyberdog offers free UK shipping for all purchases over £50 and free worldwide shipping for orders over £120. Here are some of the products you can find on Cyberdog!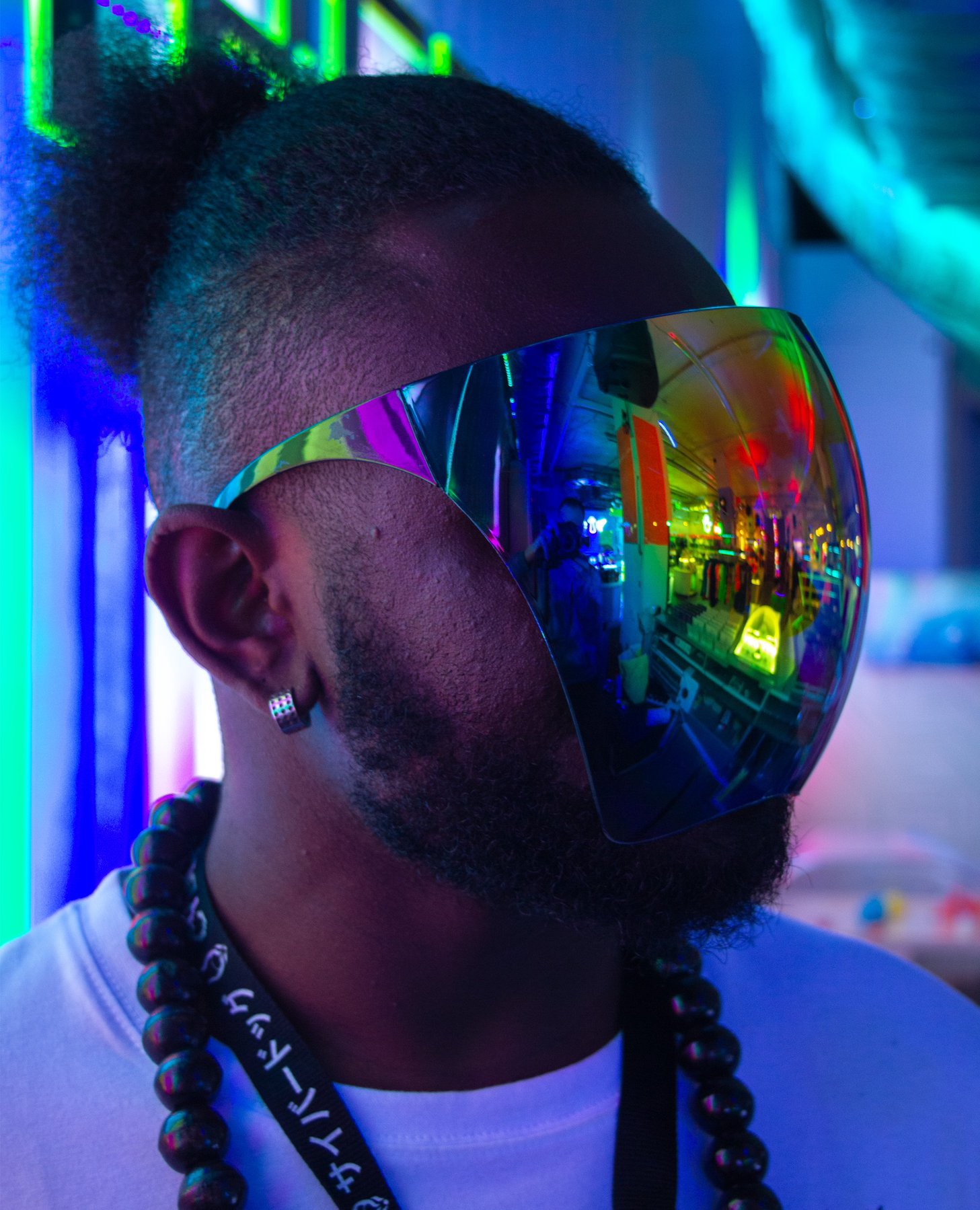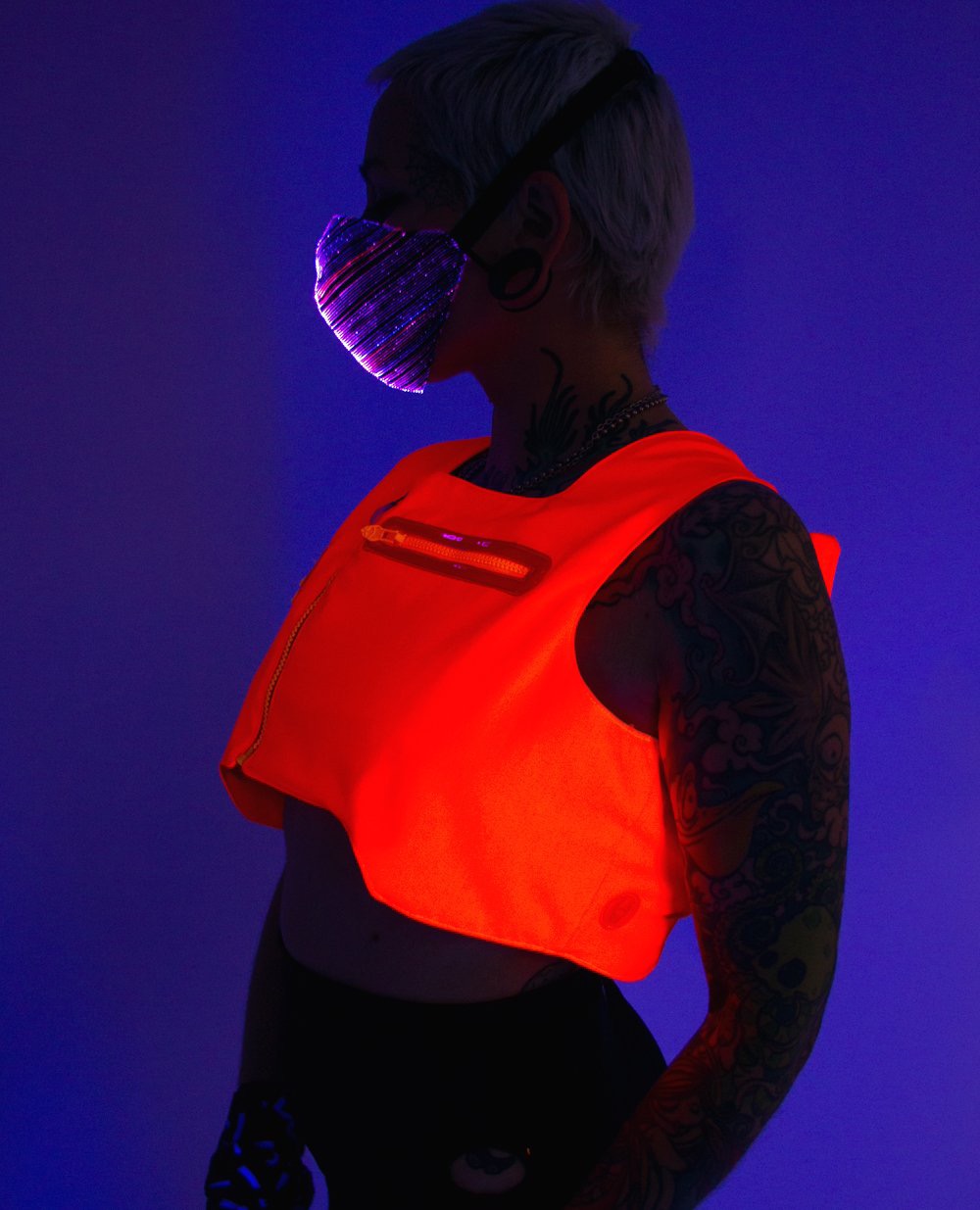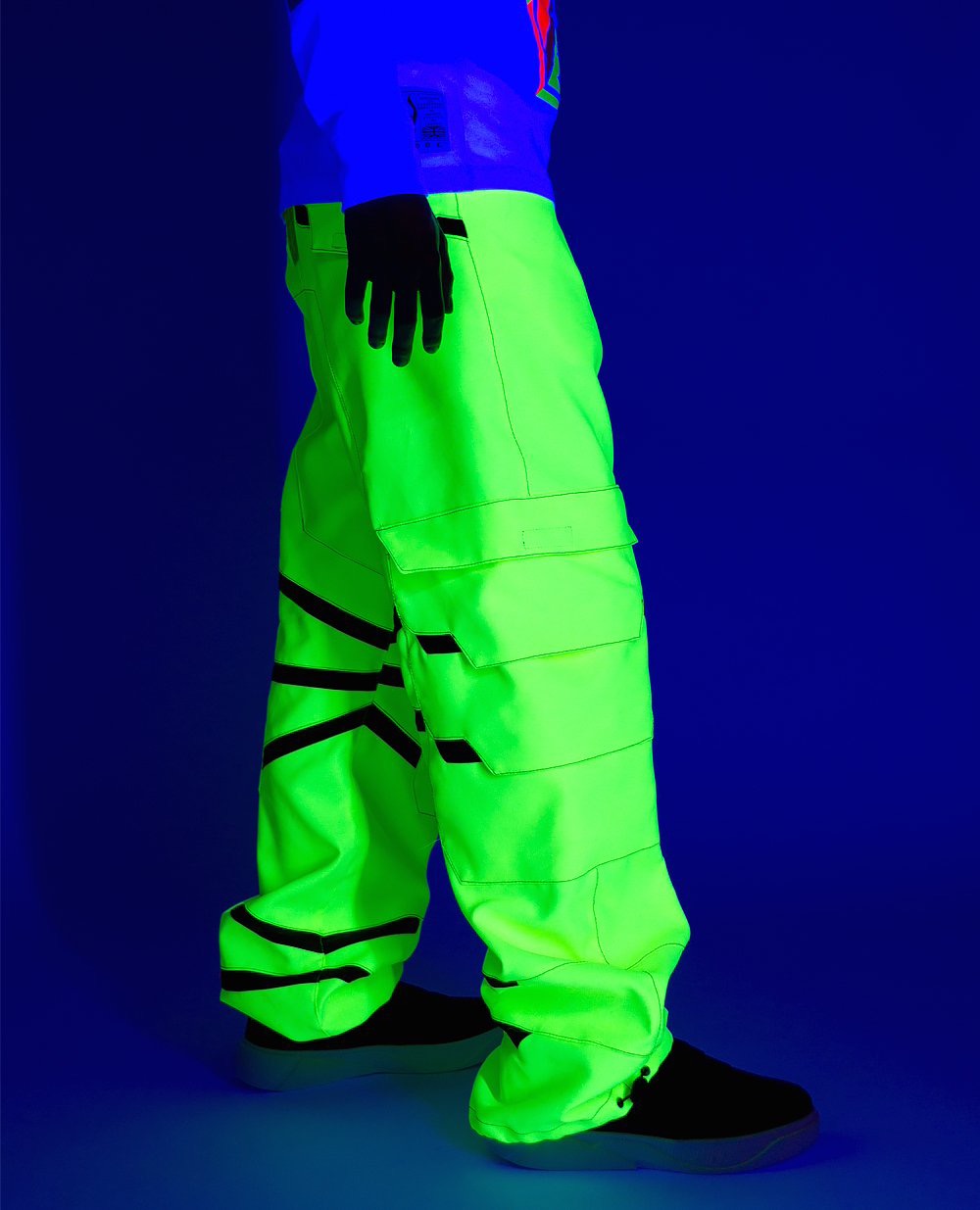 Cyberween and other events
Every year, Cyberdog puts together its iconic 'Cyberween', a Halloween celebration that is family-friendly and free to attend. All members of staff are dressed and made up to the nines, and its Camden Town store is decorated with eerie additions. There are also live DJ sets for a rave in the store. The brand holds additional events from time to time, which are announced here and on any of its social media accounts which can be found at the end of this article, so give them a follow to stay up-to-date!
Recently, to celebrate UK's lifting of COVID-19 restrictions, Cyberdog assembled an event called 'Freedom Vibes' for its aliens. Live DJ sets were held in its 'Mothership' store to welcome UK's 'Freedom Day'.
Personal shopping for aliens
On top of transporting its customers to space (what a typical Cyberdog shopping experience feels like), Cyberdog also has a personal shopping service for the times you're in dire need of recommendations or if you need a bit of help to match a rave/event theme. You can book 30-minute slots with a member of staff at its Camden store who will assist any and all of your alien needs!
Be a good alien and recycle
Waste electrical and electronic equipment is the fastest growing waste type in the UK. Most electronics can be refurbished or recycled for parts, but many simply end up in landfills, and over time, electric equipment leak harmful substances onto soil or into water, which contaminates wildlife and can affect human health, as well.
To help tackle this problem, Cyberdog accepts old and broken electrical items and equipment. The brand provides a freepost label (view pdf here) so there is little to no charge for its customers or otherwise to send electronic waste to their warehouse. All you will need to do is pack the electrical waste, and print and attach the label to the parcel. As easy as 1-2-3!
Look out for the crossed-out wheelie bin symbol on your broken or old electrical equipment, which serve as reminders to not throw any electronics in your household waste bins. Always discard of all electronics and batteries in specialist bins. Find your nearest facility here.
Where to find Cyberdog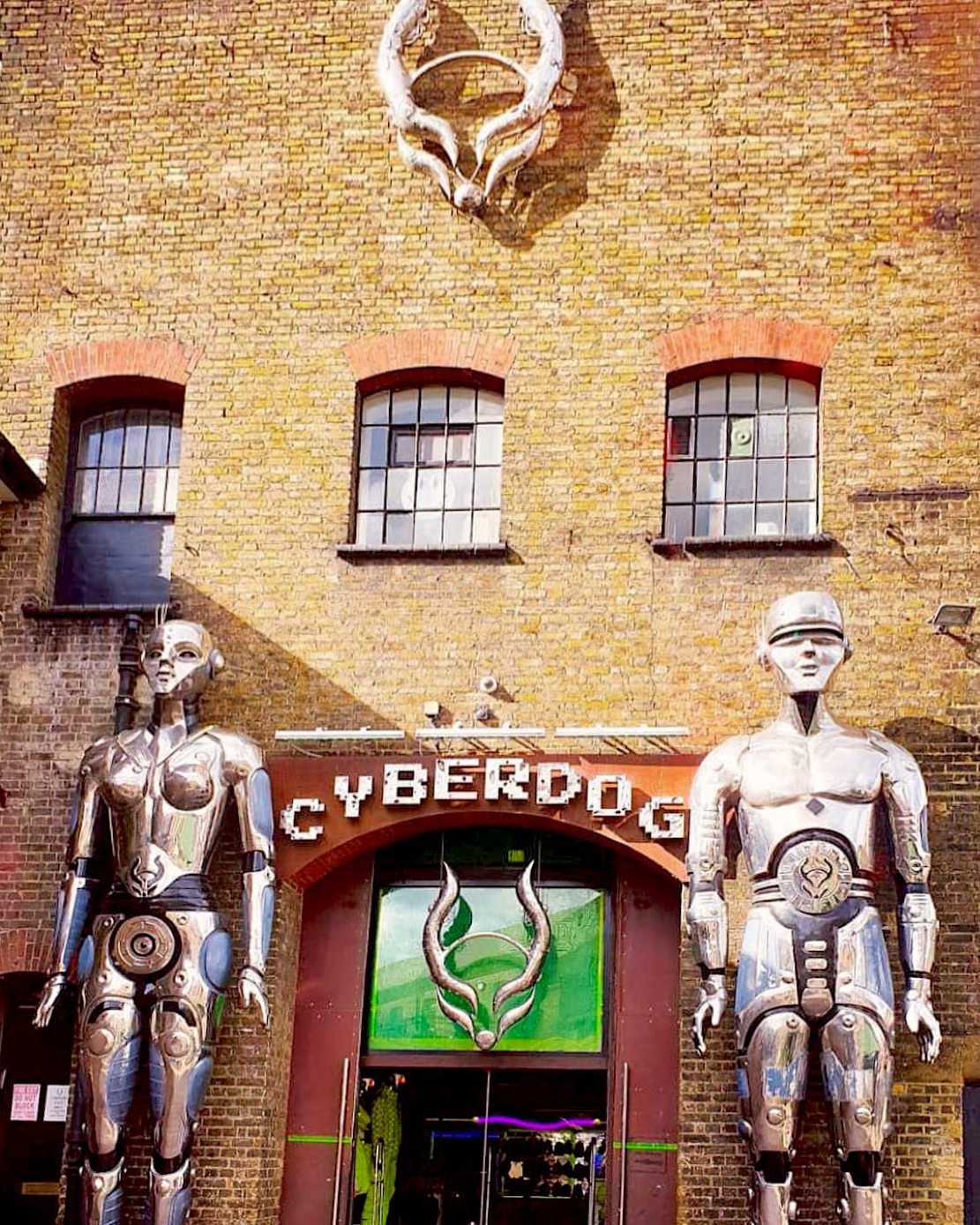 The brand's 'Mothership' store in London was previously The Clash's rehearsal and living space. The band was a huge influence on British punk rock and it only makes sense that Cyberdog followed suit in occupying the building.
At the entrance, you will be greeted by two giant robots and upon entering, club and deep house music is played all-day long in a low-light setting to create an environment similar to rave parties. So much more than a store, make sure to stop by and experience Cyberdog's 'Earth Station' at:
45 Gin House, Stables Yard, Chalk Farm Road, London NW1 8AH
Or find Cyberdog on social media:
@cyberdog on Instagram   Cyberdog on Facebook   @cyberdoguk on Twitter